Institute Blog
The Good Books: A Little Light Reading
[et_pb_section bb_built="1″][et_pb_row][et_pb_column type="4_4″][et_pb_text _builder_version="3.12.2″]
Hilltop has a long-standing commitment to anti-bias education. Over the years, educators here have explored the challenges of converting this value from intention to reality. Standing up and saying "I believe in anti-bias education" doesn't do much to change the day-to-day experience of our classrooms and culture. Even acknowledging the subtle inequalities, the tacit racism, the overwhelming normative forces is a step short of actually creating change. "Non-bias" curriculum can contain acknowledgment, but we want "anti- bias" and that means action. Our many systematic biases have been in place for centuries, and it will take a concerted, bold effort to pry away the old fixtures.
To keep a focus on tangible change, Hilltop has set up a Diversity Task Force comprised of educators and parents. Among their pursuits is a pointedly anti-bias library of children's books in the form of an online list and comments section. The hope is that educators and parents will use this list when they head to the bookstore or library. The books we read children are teaching them the way the world works, and picking titles that complement our values is essential. It doesn't take a long session of rummaging through the library shelf to realize that bias is everywhere in children's literature. To get away from this, it helps to have direction.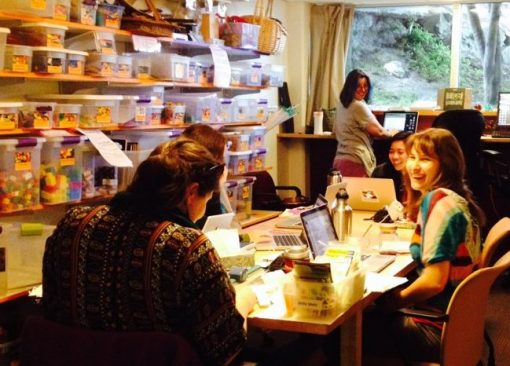 Chelsea Myers, a River Room educator and three-year member of the Diversity Task Force, is spear- heading the project. She envisioned a thorough collection of anti-bias books tackling all variety of social issues, and a comment forum to guide readers in using the books as teaching tools. This way, educators and parents can share valuable information on the intended audience, language, accessibility, how the book captures (or fails to capture) children's attention, intersectionality, and questions and conversations that arise with the reader. Chelsea also acknowledges that while some books do very well addressing one bias, they may reenforce another. An open forum will create valuable foreknowledge, so the adults can proactively use both the successes and shortcomings of a book to teach anti-bias.
Of course Hilltop is not the first school to pursue an anti-bias library. Rather, we're just aligning with other centers around the city who have done similar work. Jason Frelot and Benjamin Gore run the Columbia City Preschool, which has named anti-bias as the core of its curriculum. Jason is also the founder of Kids and Race, an organization that travels to community centers and gives presentations for parents, educators, and the kids themselves about changing the narratives on race.
Needless to say, that work informs his decisions as director of Columbia City Preschool. He and Benjamin provide anti-bias coaching to the staff at their center, and write grants to help fund their own growing anti-bias library. I asked Benjamin if there were any particular traits that Hilltop should look for while browsing the bookshelves, or any specific recommendations.
"Just every day stories" He told me. "Like Snowy Day for example…it's showing people of color living normal lives…It's not about MLK, it's not about things that happened in the past, it's just about this child's experience on a snowy day."
Lesa Valenzuela, Program Coordinator at Pike Market Childcare and Preschool, talked to me about the importance of coaches at their center who offer trainings for both staff and parents about different anti- bias issues. Knowing the issues, the debates, the common misconceptions and questions, allows adults to respond to children intentionally, and use anti-bias literature to its fullest. For a favorite book, Lisa recommended the Tulip series, about a fairy who can grant people the power to be whatever gender they wish.
Recently I checked in with Chelsea to see how the library project was going. "It's at about 90 titles" She told me. "But it's not accessible to the public yet. Right now, most of what I'm working on is listing pros and considerations for each book. I've put it out there to other educators, and asked them, 'have you you read this book? What do you think?'. After we have that as a start, and put the list online, anyone will be able to comment."
It will look a little like this:
[box] The Boy and the Bindi
Pros:
The text is simple and poetic.
Bindis are historically reserved for married women, so there is a gender norm challenged as well.
To consider:
The book does not name a cultural or religious origin for the bindi so you will need bring your own knowledge/research.[/box]
or like this:
[box] The People You May See
Pros:
A helpful starting point to spark questions or observations.
To consider:
There are many people that are not included such as people who are homeless or people with body types outside of the norm.
The illustration style tends to make everyone look white, even if they are not.
Many of the models are white.[/box]
As we know, public discourse on issues of bias, particularly via the internet, can get a little heated. While teachers in our city are generally used to confronting sensitive social issues head-on, the wider public might be caught off guard by the territory that children's authors are covering these days. "I expect conflict for several reasons," Chelsea says. "Including people's general discomfort talking about some of these issues, but that's all part of it." Comment submission will go through Chelsea, to ensure that the discussion remains respectful.
As we continue forward with this work, chiseling away towards social change, it will be ever important to hear different voices in our community, and to have continual debate about how we teach anti-bias. The stories we read to our children will reflect our perspective on the world. If we follow our values of anti-bias education, then we know that perspective is going to change. Look out for Hilltop's anti- bias book list to go online in the very near future.

Jacob Leavitt is an educator with 3- to 5-year-olds at Hilltop Children's Center, where he has worked since 2011.
[/et_pb_text][/et_pb_column][/et_pb_row][/et_pb_section]