We are a nonprofit organization that funds our finance assistance programs, in part, through private donations from generous individuals, corporations, and foundations. We offer tuition assistance for families
Our team, as well as our donors, recognize that the cost of quality childcare can be out of reach for some families, so much so that sometimes families forego childcare altogether. We welcome all who wish to participate and believes no one should be denied enrollment based on their ability to pay. Through our Annual Giving Campaign, our organization provides financial assistance to families based on individual needs and circumstances.
Keeping quality childcare within reach of all families is a core of our values and we work to provide options that enable families to secure the care they need for their children.
HOW TO APPLY FOR FINANCE ASSISTANCE
Our organization strives to provide financial assistance to as many families as possible. Available financial assistance is determined during the annual budgeting process and based on the amount raised during our annual fundraiser.
Families needing financial assistance should begin by applying for state and city financial aid before applying for our financial assistance program. Both state and city financial aid programs use the State Median Income (SMI) to determine eligibility.
State Assistance
Apply to Washington State Working Connection Child Care (WCCC) to determine eligibility to receive childcare subsidies from the state.
Working Connection Child Care | DSHS
Working Connections Child Care, or WCCC, is a childcare subsidy program that helps families with children pay for childcare to find jobs, keep their jobs, and get better jobs. Focused on families below 60.00% SMI.
Basic Eligibility Requirements
The child who needs subsidized care must be a U.S. citizen or legal resident.
The family must live in Washington state.
The family's income must be at or below 200 percent of the federal poverty level (FPL) when applying, or 220 percent of FPL when reapplying.
The parent must be employed or self-employed in legal, income-generating, taxable activities; or the parent must meet all TANF/WorkFirst requirements if participating in that program.
Families experiencing homelessness may be approved for up to 12 months to resolve issues surrounding homelessness.
Starting July 1, 2021, parents attending full-time community, technical, or tribal college are no longer required to work to qualify for Working Connections Child Care (WCCC). Student parents enrolled full-time may be eligible for WCCC when participating in associate degree programs, vocational educational programs that lead to degrees in specific occupations or registered apprenticeships.
The parent must complete the WCCC application and verification process.
Parents of children with special needs may qualify for higher rates to help pay for additional supports needed.

City Assistance
If you live in the Seattle City limits and are not eligible to receive WCCC subsidies, apply for the City of Seattle Child Care Assistance Program (CCAP) to determine eligibility to receive childcare subsidies from the City of Seattle. Focuced on families between 60.01% and 94% SMI.
City of Seattle Comprehensive Child Care Assistance Program
The Child Care Assistance Program (CCAP) helps families living within Seattle city limits who have with a parent working or attending school to pay for child care for children 1 month to 12 years of age.
Basic Eligibility Requirements
Live within the Seattle city limits (Residents living in unincorporated King County are not eligible). Use this tool to determine if you live within the City limits
 Be employed and/or enrolled in qualified education or job training program
 Have a child under 13 years old
 Identify a provider contracted with the City of Seattle
 Meet the income guidelines based on family size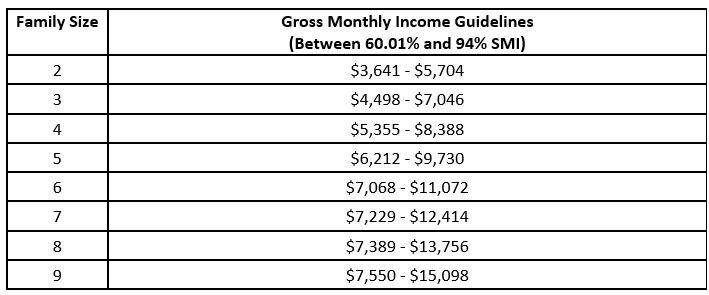 Our Tuition Assistance Program
To apply for Tuition assistance, simply complete the application form. Then provide the requested information regarding income and family size to our Enrollment Coordinator, so that we can provide scholarships in a fair and consistent manner. Focused on families above 94.01% SMI.
Our Hardship Scholarship Program
Our hardship scholarship program is a need-based program that provides short term financial assistance to families for extenuating financial hardships. This policy does not cover families who require long term tuition assistance. Each application will be reviewed anonymously by the Executive Director. The number and amount of scholarships given during the year is dependent on the amount of funds available.