Institute Blog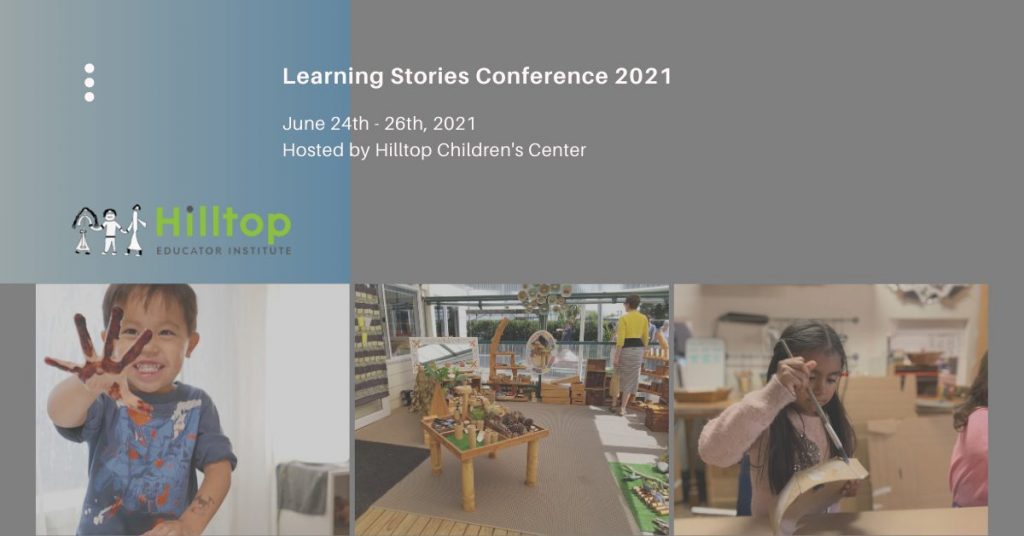 Learning Stories Conference 2021
[et_pb_section fb_built="1″ admin_label="section" _builder_version="3.22″][et_pb_row admin_label="row" _builder_version="3.25″ background_size="initial" background_position="top_left" background_repeat="repeat"][et_pb_column type="4_4″ _builder_version="3.25″ custom_padding="|||" custom_padding__hover="|||"][et_pb_text _builder_version="4.5.1″]
SALSA TAPS HILLTOP AS NEXT CONFERENCE HOST
Seattle, WA has been selected to welcome the 3rd annual Learning Stories Conference in June 2021
Seattle, WA – Published on July 21st, 2020 – Hilltop Children's Center and Educator Institute has been named the host of the 3rd Annual Learning Stories Conference (LSC) to be held virtually over 7 days from April through June 2021 on the traditional lands of Duwamish Tribe, the first people of what is now known by colonizers as Seattle, WA. Hilltop, an innovative inquiry-based preschool, afterschool program, and early learning professional development institute, has served Seattle's children and families since 1971, while also providing equity-focused training and consulting through our Educator Institute since 2013.
Workshop Dates and Times:
Day 1: Monday, April 19, 2021 – 11am, 2pm, 5pm PST
Day 2: Saturday, April 24, 2021 – 10:30am PST 
Day 3: Tuesday, May 18, 2021 – 11am, 2pm, 5pm PST
Day 4: Saturday, May 22, 2021 – 10:30am PST 
Day 5: Thursday, June 24, 2021 – 5pm PST 
Day 6: Friday, June 25, 2021 – 12pm, 2pm, 4pm PST 
Day 7: Saturday, June 26, 2021 – 10:30am PST 
"For so long, Hilltop Children's Center has been a pillar in the Early Childhood Education (ECE) community. They are known internationally for the way they partner with and support children and families. The selection committee was confident in awarding Hilltop this national conference in 2021, in their 50th year of service, to help steward a new generation of thinking, doing, and being in our industry," said SALSA (Supporting the Advancement of Learning Stories in America) Board President, Dr. Annie White.
"This is a tremendous opportunity to inspire and transform how we approach our work with young children through the art of storytelling. On the heels of this socio-cultural revolution we're all experiencing in 2020, we're excited to be entrusted by SALSA to use this conference as an opportunity and platform to continue this conversation on ways we can confront and challenge the injustices happening within our industry and field," added Michael Browne, Hilltop's Community Engagement Manager. 
Typically, a one day gathering, this year's Learning Stories Conference will be held over 3 days and will feature many opportunities to engage with local practitioners from Portland, Seattle, and British Columbia, Canada, to inspire curiosity and reflection, and to explore the Pacific Northwest.
"This conference is an opportunity for the ECE community to gain a better understanding of the value of learning stories, storytelling, and pedagogical narration. This three-day dialogue will leave people inspired and empowered to advocate for a new way of working in partnership with children and families, one that takes into account the individual needs of all children, embraces the values and contributions of individuals from marginalized groups and encourages reflection and responsiveness in our work," said Darline Guerrero, Executive Director of Hilltop Children's Center and Institute. 
"This gathering of minds in Seattle is designed to encourage dialogue and alliance among professionals, who represent a range of programs and contexts from around North America.  I am inspired by the theme of this conference – The System Wasn't Built for Us – and its potential to spark challenging and meaningful discussion of the inequities in our schools and society. For three days in June of 2021, committed and curious educators will be together, working to find creative and disruptive solutions to the issues facing our field," said Sarah Felstiner, former Hilltop's Education Director. 
Our community is ready for a change in the way we approach education in North America, the way we view children, and the way we partner with stakeholders in support of children and families, by accessing the strength, values, and proven impact, of the Learning Stories philosophy. Hilltop Children's Center is honored and excited to be part of this opportunity to support capacity building and transformation for our community.
In an effort to make this conference free for all, Hilltop is seeking partners, sponsors, and volunteers. Interested in supporting or know of someone willing to support? Contact Mike Browne, Sr. Community Partnership Manager at institute@hilltopcc.org
For more information about Hilltop Children's Center and Educator Institute visit www.hilltopcc.org
For more information about the 3rd Annual Learning Stories Conference visit www.hilltopcc.com/institute/lsc21
###
[/et_pb_text][/et_pb_column][/et_pb_row][/et_pb_section]