Institute Blog
Changing the world…ten children at a time
by Sarah Felstiner, Curriculum Director, Hilltop Children's Center
When I began working at Hilltop, I was a solo teacher in a classroom of ten 3-5 year old children, and I was keenly aware of the strange dichotomy of my job. What I did each day was tiny: holding a hand, telling a story, wiping a nose, singing a song. And what I did each day was huge: caring for ten human beings, modeling how to be in the world with each other,
offering a setting for children to learn and grow. So when friends asked me what I did for work, I liked to say that I was "changing the world…ten children at a time."
Those of us who work with young children know how critically important our work is. Though we may face the misunderstanding that we are "babysitters" and that our job "must be so fun," we know that early childhood education is a rigorous, compelling, impactful profession. Early childhood educators care for children at a time when every word and gesture they encounter helps shape who the children become. We support families at a time when they are learning to navigate the joys and challenges of parenting. We are agents of change.
This image of "changing the world…ten children at a time" helped me bring intention and focus to my daily work with children and families, and helped me articulate why each group of children I spend time with deserves the best I can offer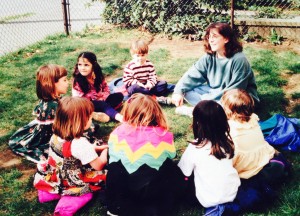 them. Which has me wondering:
Are there other images or metaphors you have used to help you hold onto, and communicate, how important this work is…to you, to the children and families you work with, to society?
And what supports us – the agents of change – to grow, to embrace change in our own lives, as we do this critical work?
I'm excited to think more about this notion of change, when Dr. Debra Sullivan is here at Hilltop next week, speaking about growth and change for early childhood professionals. I hope you can join us (in person, or online) on Thursday, January 21st for a conversation designed to invigorate your teaching practice into the new year: Learning to Walk: Individual Growth and Change in ECE
"Leadership can be transformational—changing, motivating, and elevating

both leaders and followers in ways that improve society

and prepare children and adults to participate

in the leadership process."

– Dr. Debra Sullivan

Learning to Lead: Effective Leadership Skills for Teachers of Young Children