Full-Day Preschool Program
Hilltop Children Center's full-day early childhood preschool and pre-k classrooms are for children ages two to five and are open from 7:00am-6:00pm, Monday-Friday. Inspired by the schools of Reggio Emilia, Italy, educators approach preschool education with a play-based, child-centered, reflective teaching practice. We want to understand what children are passionate about, challenge their thinking, and support their social-emotional, physical, creative, and cognitive growth and development.
What curriculum do you follow?
What are the hours for the full-day preschool program?
All of our full-day preschool classrooms are open from 8:00-6:00. The majority of children arrive between 8:00-9:00 and leave between 4:30-6:00.
How many days can my child attend?
Hilltop offers 5 day/week Monday-Friday schedules.
Can my child be in diapers?
The toddler rooms, ages 2-3, have diaper changing facilities.  The older classrooms, 3-5 do not have access to diaper changing facilities. Children who are just gaining competency (i.e. – still occasionally having accidents in underwear), are welcomed to work though that final phase with our nurturing and skilled staff.
Is there a transition plan for my child to get used to going to school?
Our educators are highly skilled in working with families and children on the transition process.  We will share information with you before the beginning of the school year to help get your family ready for the transition. As each child reacts individually to transitions, we work with families to develop individual plans for successful transitions to Hilltop.
What meals do you provide?
Hilltop provides morning and afternoon snack for our full-day preschool program.  Families provide 
lunch
.
What if my child has allergies or needs to take regular medication?
Upon enrollment you will receive paperwork to return to us with any information including allergies and medication.  Hilltop is a tree nut, peanut, and shellfish free school, as some children are highly allergic to these food items.
Are there parent volunteer opportunities at school?
We love parent participation in a variety of forms: in the classroom, with school-wide projects, or on committees or the board of directors. Parent involvement in the classroom may include sharing a tradition or holiday important to your family, bringing in a talent for crafts, music, cooking, or other activity, or accompanying the class on field trips. School-wide projects that we need volunteers for might be painting walls, helping with our garden, or organizing teacher appreciation week. And, we could not run the school without the parents who sit on our board of directors, who contribute their expertise to committees, and who help make the decisions about budgets, strategy, and the direction of the organization.
How long are contracts?
Our contracts for full-day preschool classrooms are a 12-month commitment, as we have found the consistency of children's experience throughout the year is key to the high-quality of their learning environment.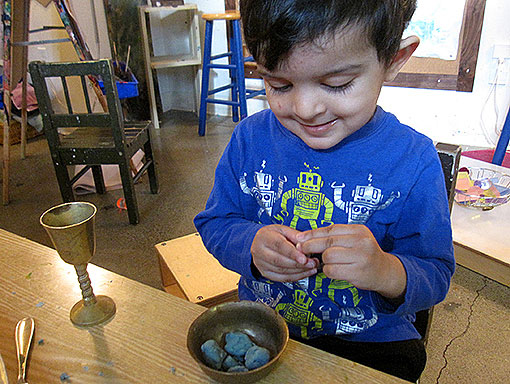 Stories from the classroom: Play-based learning
Rohan spent about 40 minutes working with the play dough in the studio this morning meticulously shaping the meatballs he was to eat for breakfast.  He shaped them through a slow and intentional process of construction, starting out with a very small piece of play dough and slowly adding really tiny pieces, one at a time.  He'd roll each small ball through and around his fingers with its added tiny piece of dough stuck to the outside, until it seemed smooshed into the ball enough.  Then he'd repeat the process again and again and again until the meatballs were just the way he wanted them to be.  Occasionally he would stop making them and put them in the bowl.  Some times he would pretend that he was really having breakfast and blow on the meatballs as thought they were still hot.
Typically I see Rohan engaged in big physical play, or dramatic and imaginative pretend play.  He doesn't often engage with sensory or art materials for extended periods of time, as he does with these other kinds of play, so it was great to see him spend such a dedicated amount of time with the squishy and salty play dough.  I appreciate that he was able to find a new and different way to act out his ideas for pretend play.  Often Rohan acts out scripts from books, television shows, or movies, all while up high on a piece of furniture or with broad and dynamic announcements of his intentions. During his meatball breakfast play this morning, Rohan created his own script instead.  Has Rohan been more creative in his pretend play at home recently, finding ways to still use his imagination without the direct script from other sources?  In what ways can we (parents and teachers) continue to support the more creative side of his imaginative play?