Institute Blog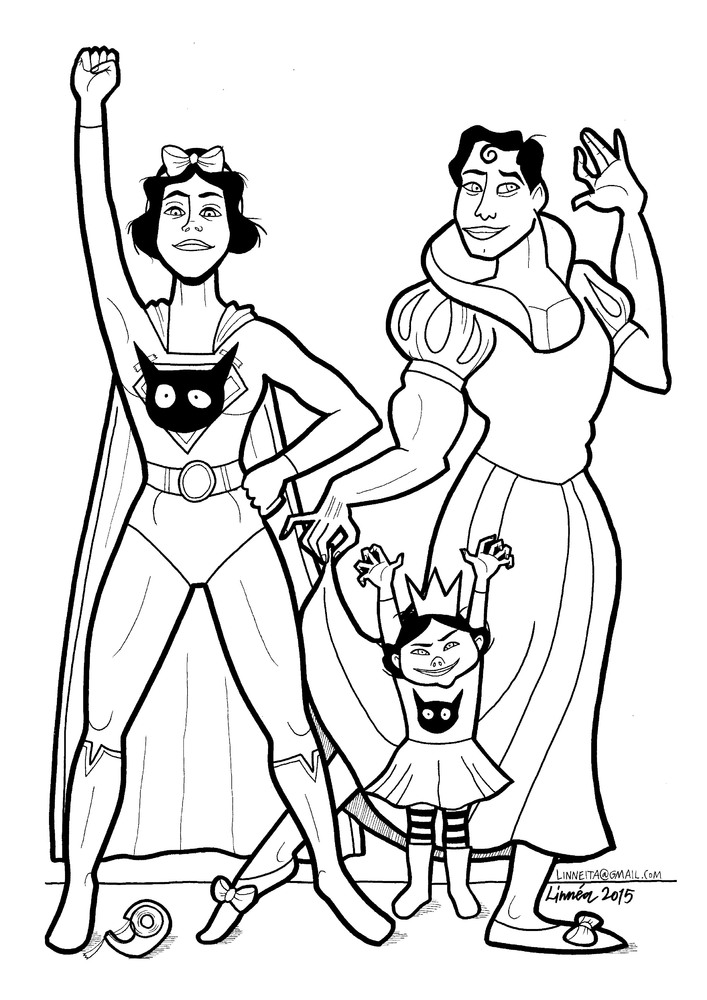 Dissecting a Superhero & Gender-Norms
One thing I am so jealous of with children is how open their minds can really be – their worlds really are so full of possibility. My favorite drawing that came out of our class recently was of a unicorn with dozens of arms, each hand holding a single meatball – could you come up with something like that?! They haven't had the decades of hearing "no" and "impossible" that we grownups have. Their imaginations are ever expanding and we celebrate that. We want them to develop creativity and critical thinking skills. Even so, we often think they can't handle these 'complicated' 'grownup' topics when really they are most primed right now when their brains are experiencing so much neural growth and flexibility. The fact that men can be nurturing or that women can fight crime are just things they might not know yet. And they are much more comfortable having things they don't know yet pointed out to them – they are constantly on the hunt for novel information, it's in their nature.
Over the past few weeks, a large group of children has continued to find each other on the playground for a superheroes-based dramatic play game. There is a lot of chasing, trapping, fighting, escaping. Some big names were showing up: Batman and Wonder Woman were most popular. As teachers, we were wondering how much of the children's assumptions about these characters were scripting their play. We wanted to humanize these characters, show more than one side to them. Bias, especially unconscious, implicit bias, is reinforced when only one story is told and retold. Research is showing that counter-examples need to be highlighted and elevated. Thus, the coloring pages were our first step into this exploration. Sitting down to this conversation, I chose ones that I knew challenged gender stereotypes, but also made sure to leave the conversation open ended. Really, I wanted to know what grabbed the children's attention. They definitely picked up on the identity aspects – specifically, what indicates male vs female and what indicates these certain superheroes. Wanting to share their observations with families, I began to transcribe the recorded conversation. Before sending it to everyone, I reached out to a few families that I knew were also wondering about their child, superheroes, and what it all means with snippets of the conversation. Their responses were the source of the questions I then posed to all families.  
After a morning of play, our class came together for Morning Meeting. I brought a few examples of the superhero coloring pages recently put out in response to some superhero play to ask the kids about what they saw when they looked at them.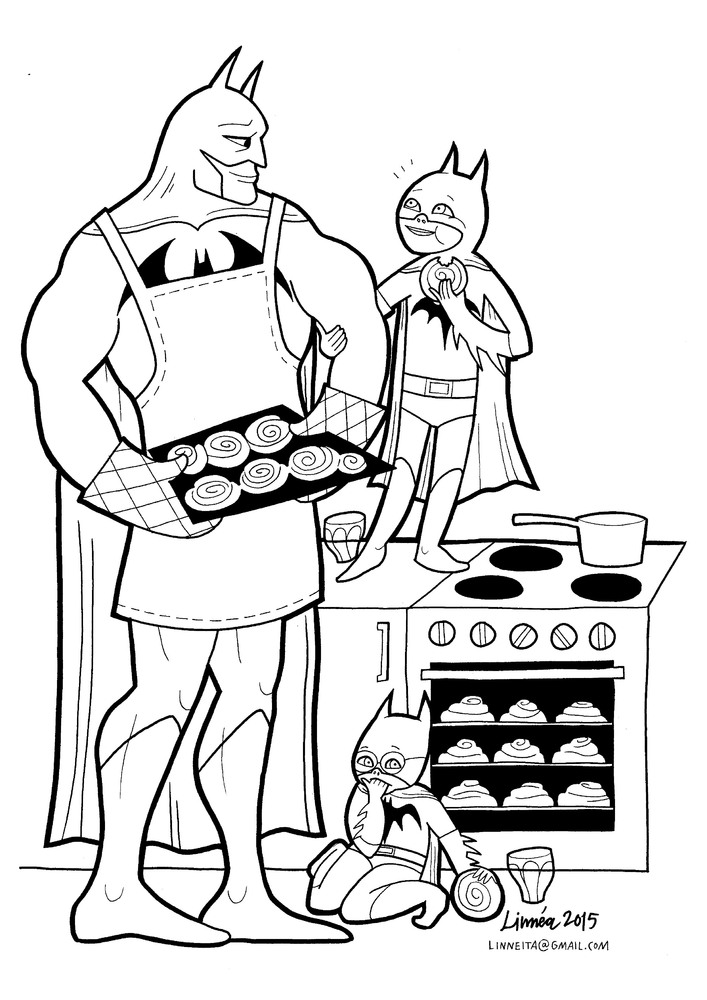 Zeke: "Batman's baking cookies!"
Eddy: "Batman is baking cookies for his babies."
Orin: "Batman is making cupcakes for his other batmans."
Lana: "He's making cookies for his daughter and with a little bit of swirls on top."
Chelsea: "How do you know it's a daughter?"
Lana: "Because it didn't look like so small. Because babies, they can't even stand up."
Alex: "That's the baby down there."
Orin: "Yeah, and the one on top is the big brother, right?"
Lana: "Yeah."
(seems it was more of a distinction between kid and baby, not boy or girl.)
Sara: "Batman's being nice to his kids. Not just giving them food and shoving them in their mouth. Just serving it to them nicely and it looks nice."
Chelsea: "When we're not being rough with someone, sometimes that means we're being gentle."
Leela: "And kind."
Zeke: "The big Superman dropped his ice cream cone."
Kyra: "Wonder Woman has three scoops of ice cream."
Sara: "It's not Wonder Woman but she can call her Wonder Woman if she wants."
Hannah: "I had the same question as Kyla. Wonder Woman has three scoops of ice cream and she could give some to her dad."
Zeke: "That is not her dad. That is Superman. Not Wonder Woman."
Orin: "No. That's Hulk."
Zeke: "No way. That's not hulk."
Lana: "The dad is crying just because he dropped his ice cream (Alyah: "That's not a daddy. That's Superman.") and the smaller girl could give him a little bit of her ice cream and share."
Chelsea: "In the first picture, it sounded like it was Batman and his kids. What about this picture?"
Sara: "It is his kid because that one's with it and they're both Supermans."
Kellan: "No no no. But that's Superman. The big one is Superman."
Michele (pointing to the child): "Who's that, Kellan?"
Hannah: "Wonder Woman!"
Kyra: "Super Girl!"
scattered: "Super Girl!"
Kellan: "Wonder Woman."
Zeke: "Wonder Woman doesn't have a cape."
Kellan: "It's Wonder Woman!"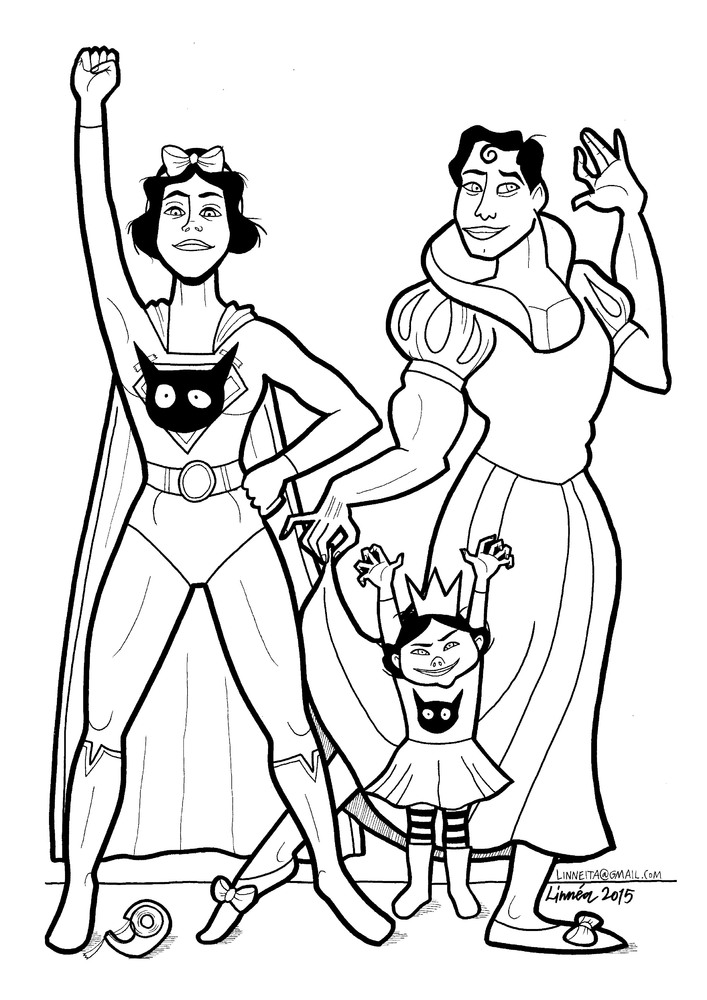 Jack: "I see that there's only one kid and two parents. And usually parents have two kids."
(brief interlude of people sharing how many kids in their families)
Chelsea: "I wonder what she calls her costume."
Lana: "Cat costume."
Sara: "Catwoman!"
Zeke: "Super Cat!"
Orin: "You know, that's not a parent. That's just Wonder Woman."
Zeke: "No. It's Super Girl, I just know it."
Eddy: "No. It's Superwoman."
Alex: "Wonder Woman!"
Kellan: "No no no! That's Superman (points to person with bow in hair) 'cause it's the big one."
Orin: "No, that's a lady."
Kellan: "No! It's Superman!"
Alex: "Superman doesn't have a bow."
Orin: "Superman doesn't have a bow, right Addison?
Chelsea: "I see two big people in this picture."
Michele: "Is one a dad?"
Alex (points to person in dress): "This one. Because that one has a bow and the other one doesn't."
Lana: "Sometimes boys wear bows."
Sara: "And the boy is wearing a dress. And my dad doesn't wear dresses very much."
Now what? Well, one conversation isn't enough to permanently shape our children's minds around stereotypes. We will have more. Building off of this provocation, our next steps may include another round of analyzing coloring pages, designing our own superheroes, play-acting with children in the roles of actors and director, as well as those 'teachable' moments during play when we see a stereotype coming through, halting play and stifling creativity and critical thinking. I also hope that sharing these kinds of conversations with families helps spark their own at home – maybe over long holiday breaks when there might be some extra time to connect.
Questions to ponder:
What else do you think we could do?
What do you do in your own classroom or home when stereotypes are prevalent?
Born out of documentation, this blog shows the power and extent to which we can make learning visible.  But there is often an uncertainty about what to document, how to go about it, and what its purpose is.  What may seem like just one more thing added to an already long list of tasks in a day, is actually a valuable tool to collect children's stories, ideas and conversations.  On Saturday, February 24th, with the help of both Dr. Laurie Kocher and the The North American version of "The Wonder of Learning – The Hundred Languages of Children" exhibit (coordinated by NAREA since 2008), this session will support the learning experiences in your program, provides a means for educators to monitor the effectiveness of their teaching, and make learning visible for all as educators will be able to better recognize children's strengths by noticing what is happening, and reflecting on children's perspectives to better appreciate their learning.  Join us for "Making Learning Visible" Documentation and Pedagogical Narration as we deepen the educator's knowledge of the child, and help families gain new perspectives about the child's relationship with the environment.  For more information visit: https://hilltopcc.com/visible