Institute Blog
What do new educators deserve?
By Sarah Felstiner, Curriculum Director, Hilltop Children's Center
Here at Hilltop, and probably for many schools and programs, it's the time of year when we prepare to bring newly-hired educators on board. What can we do to welcome new educators to our community, and to share our values, traditions, and expectations? How do we go beyond "here's where we keep the bleach bottle" and engage new educators in thinking about our pedagogical beliefs and practices?
We all know there are many, many things a new educator needs to know when he or she joins a school: details about the facility, schedule, regulations, HR practices, and so on… These pieces are important for getting folks up to speed on basic procedures and policies, but this "organizational orientation" (the nuts and bolts of being an employee) are distinct from what we call "pedagogical orientation," which is designed to familiarize a new educator with our organizational values, and the specific educational practices that flow from them.
Pedagogical orientation is our way of introducing new faculty members to the theoretical and philosophical underpinnings of the curriculum at our school, and giving them some sense of what those foundational intentions will look like in action.
At Hilltop our plan for pedagogical orientation of new educators starts from the core values we hold about those who choose to work with us. We believe new educators deserve to be welcomed as valued members of a community. We want to treat them as long-term employees, not just warm bodies to keep the classroom in ratio. New educators deserve to know they've been hired for their heart and skill with children, and they deserve to be treated with respect and trust for what they will offer our community.
Right from the start of their employment, new educators deserve to learn the culture and practices of our school. They deserve to have a few days of orientation before being asked to care for children – orientation focused on the school culture, values, and practices. They deserve to understand our pedagogical approach before they are asked to implement it.
From day one, we want to send the message that working at Hilltop is working in a collaborative community of children and adults. New educators are not only starting a new job, but a new set of relationships that will grow and develop over time.
Right from the start we make a significant investment in our educators, believing they will, in turn, invest in their work. Starting with an orientation focused on building relationships creates a climate focused on our values. We want new educators to start asking themselves:
What do I bring to this job?
What are my special talents?
How do I see myself growing professionally and personally through this work?
At Hilltop our pedagogical practice is centered on the co-construction of knowledge, with both the educators and children acting as researchers and investigators, inside the dynamic relationships of family, classroom, school, and community. So we want our initial orientation days to be similarly interactive and inquiry-based.
All new educators at Hilltop participate in two full days of pre-service orientation – focused entirely on values and pedagogy – before diving into classroom work. These days tend to include
group meetings with Hilltop's Mentor Teachers
focused observations in the classrooms
readings and video viewing with reflection questions
discussion of past experiences and "ripped from the headlines" classroom scenarios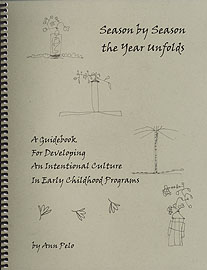 In addition to this pre-service orientation, newer educators at Hilltop continue to attend monthly orientation meetings throughout their first two years. These ongoing discussions are planned responsively, depending on the specific needs of our current group of first and second year educators. Ideas and practices that were touched on briefly in the pre-service days continue to be unpacked in greater depth, as those practices become relevant. Some of the topics we frequently take up include:
designing responsive classroom environments
writing Pedagogical Documentation and Learning Stories
In-depth Investigations and Collaborative Conferences
teamwork and communication styles
anti-bias practices within an Emergent Curriculum context
using art media as a tool for thinking
How our values, educational philosophy and pedagogy might look in action, throughout the year, is detailed in our Season by Season guidebook, which we place in the hands of every new teacher hired at Hilltop. And examples of our orientation slideshows, videos, and activities are available digitally on our Right from the Start DVD.
This year, Hilltop is trying something new… Through the Hilltop Educator Institute, we are partnering with another organization, and offering two full days of pre-service orientation for their entire faculty, alongside our own new educators. Tiny Trees Preschool is a new outdoor preschool program in our area, opening its "doors" this September, and preparing to offer care at four Seattle Parks locations. We are proud and excited to be connected to this new venture, and eager to see what happens when we learn in relationship with new educators from another program.
Requirements of a Teacher of Young Children

"She should have a fair education. By this I mean she should have a doctor's degree in psychology and medicine; sociology as a background is advisable. She should be an experienced carpenter, mason, mechanic, plumber, and a thoroughly trained musician and poet. At least five years practical experience in each of these branches is essential… Now, at 83, she is ready!"

Jessie Stanton, Bank Street College
[author] [author_image timthumb='on']https://hilltopcc.com/wp-content/uploads/2016/01/Sarah-Felstiner-photo-square.jpg[/author_image] [author_info]Sarah Felstiner is the Curriculum Director at Hilltop Children's Center, where she has worked since 1995.[/author_info] [/author]