Institute Blog
Can Kids Go to Jail?
[et_pb_section fb_built="1″ _builder_version="3.22″][et_pb_row _builder_version="3.25″ background_size="initial" background_position="top_left" background_repeat="repeat"][et_pb_column type="4_4″ _builder_version="3.25″ custom_padding="|||" custom_padding__hover="|||"][et_pb_text _builder_version="4.4.2″]
Children are naturally curious about things that we adults sometimes have a challenging time wrapping our minds around. And children sometimes feel even more curious as our own discomfort grows.
Recently, despite my own discomfort, I decided to engage with a subject that stirs distressing feelings for me: children in detention centers. My students initiated the topic, and I have to be honest with you, in the beginning of the conversation I felt helpless. I wondered how in the world I would be able to deliver a heartfelt yet age-appropriate message to my 3 to 5 year old students. I will start by telling you how the discussion of children in detention centers started, and the way my students and their families helped me changed my reactive perspective to a more responsive approach.
It all started at lunchtime. As per usual, I sat at the table with a few students. Lunchtime is often a time when we have calm and meaningful conversations, as well as practice storytelling of all sorts. On that particular day, children took turns telling made-up stories about witches, knights, and castles. At one point, one child was telling a story where the main theme was about a witch who locked children up in jail. The storyteller pretended that his friends at the table were the children being held at the jail by the witch. That specific part of the story sparked a conversation among the other children listening:
John: "That's not right! Children can't go to jail! Not in real life!"

Ronnie: "Yes they can! There are children right now being separated from their families. Children CAN go to jail, right?" (She looked at me with doubt in her eyes.)
My first thought was "Oh my… What should I say?" I wasn't sure how to react. Sure, I was aware of the disgraceful situation that many immigrant children were facing at the detention centers on the border with Mexico, and also, the children facing negligence, abandonment and separation from their families on account of war and famine across the globe. Those situations seemed to be happening so far away from my student's lives, yet in my heart I knew I wanted them to feel more connected to those realities, as well as to try to understand, myself, what is going on for those children in those situations.
I started by saying that some children are in places that look like jail. I added that these places are called detention centers: real-life places where children don't have their families around, and sometimes don't have a friend or even a blanket to comfort them. I shared my guess that those children must feel lonely and scared.  Following my comment, Ronnie had many questions about the conditions of those places and the reasons why children are there. I noticed that Ronnie and some other children presented a level of anxiety around the "why," because they instantly asked me "Can we go to jail??"
I explained that families born here, in The United States, wouldn't have their children be sent to detention centers, and that includes all of the children currently in our classroom. However, I added, families born in different places, especially places close to The United States, might have that happen to them. Ronnie, knowing that I was born in a different country, asked if that could happen to me. Before I could answer, Mary asked me if that could happen to her grandma, too, who was born in a different country. Soon enough other children started flooding me with questions about relatives and friends they know were not born here.
My internal response was a desire to scream out loud, not to my students but to our political representatives! This messy situation has repercussions they have little to no interest in dealing with. We are left behind trying to pick up the pieces of a broken situation.
My own internal dialogue was paused by Ronnie restating the question: "So Maria, can you go to jail too?"
I responded: "Well, I think if I was to go to jail because I did something wrong, I'd probably be sent back to my home country after going to jail and I think I wouldn't be able to come back to The United States."
Children digested my comment slowly. So, I continued: "These children that we are talking about are in a different situation. They didn't deserve to be placed in the detention centers in the first place. They didn't deserve to feel scared or lonely. They didn't do anything wrong."
Ronnie: "Why? Do their moms and dads did something bad? So, like if you, Maria, if you did something bad you would have to go away like they did."
That's a tricky one, I thought quietly. As an immigrant myself, I have been treated unfairly just because of the place I was born. It's a complex theme, but I wanted to also be true to my words. I know I am not an expert on Immigration, and I don't know the complex nuances of all the personal reasons that lead people to move away from their home countries.  So, I just thought about some of the reasons I knew were true to my own reasons to move away from my home country. I said:
"Some of these families just want to live here, to have a good life here. They want to feel happy and safe. We all do, right? But we have people with a lot of power saying that they don't belong here, that they need to go back to the countries where they were born, even though The United States is their home too. So, the moms and dads are being separated from their children, like you said, Ronnie. The children can't be sent back, so they need to stay here, at the detention centers."
Ronnie looked really upset, as well as the other children at the table who were following our conversation:
Ronnie: "That is horrible…"
"Yes, it is," I agreed with a heavy heart.
Ronnie: "What can we do??"

Maria: "What do you think?"

Ronnie: "Can we go visit them? I know, I think I want to like make them my children, like when you are in an orphanage and a grownup becomes your mom and dad."

Maria: "Oh, are you thinking about adopting a child?"

Ronnie: "Yes. I want to adopt them when I grow up, because I know I can't do it right now."

Maria: "Oh! Yes, that's one thought! Does anyone have another thought about what we can do to help them?"

Mary: "I know! We could like demand that they open the jail and that they can go back to their families."

Ronnie: "No, Mary, we can't do that remember? That's why the children are there."

Mary: "Oh yeah… Wait, can we visit them?"

Maria: "I don't think we can visit them, but I know that a few people can. I know one person, he is a lawyer, and he was trying to help some of the families so he went there, to the detention centers to try to release the children."

Mary: "My uncle is a lawyer!! I will ask him to do that!!"

Maria: "You do that! Lunchtime is over now but let's keep thinking of ways we can help these children, alright?"
Lunchtime was over, but that was only the beginning of the conversation. My co-teachers and I believed there was an opportunity for advocacy work, and for more understanding and support for the conversation, so we continued to move forward with this topic. My next step was to reach out to Ronnie's family to get a sense of any conversations that had happened around the topic, at home. Here is condensed version of the emails I got from Margie, Ronnie's mother:
Margie: "I do think that Ronnie heard us talking about this over the holiday weekend. When I asked her about it, though, she said she didn't remember where she heard it or how she knew about it. When I talked to her about it after your email, she asked what we could do for the children. She suggested writing a letter to them, but then she wondered if it would be hard to get a letter to them. I suggested that we think more about it and that we could talk more and that maybe she could also talk with you and my colleague that works with migrants. I'd be happy to support a plan for advocacy around this. Thanks for letting us know about the conversation so that we could follow up and help her think about how to engage with this difficult issue."
Just a couple of days later, Margie sent me another email:
Margie: "I was able to reach out to my colleague, Caitlin, who has been down to the border to assist migrants. I asked her what she thought about this and what parents can also do to support. Here is what Caitlin sent to me:
One of our WA state representatives, Congresswoman Pramila Jayapal, will be traveling to the border soon. She is willing to personally deliver any messages that the children at Hilltop create to the children separated from families at the border. This is a real opportunity for the advocacy efforts of the children to be impactful. 

If parents are interested in having an impact on the families at the border, good places to donate include: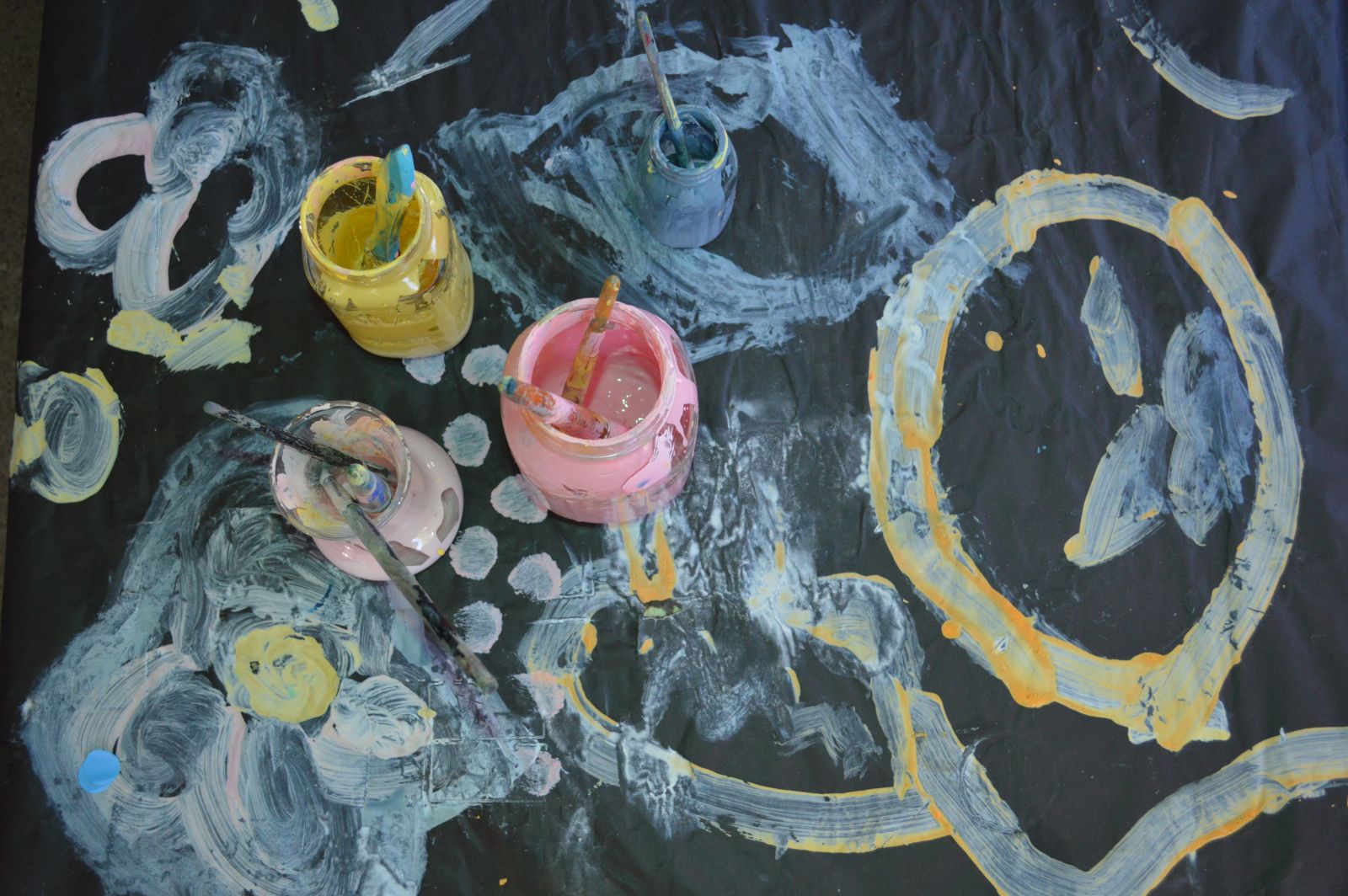 The partnership with Ronnie's family and our extended community helped continue the understanding of the current immigration situation at the border, and of how the separation of children from their families might directly impact my students. To support this discussion, we used the following books: Carmela Full of Wishes, The Keeping Quilt and The Name Jar.
At the same time, my teaching team and I, together with Ronnie and a few interested students, decided to draw pictures and write messages to the children we were hoping to help. When the time came for the pictures and messages, children seemed to be hopeful:
Ronnie: "I hope this cheers them up!"

Susan: "I am gonna say I am a knight and I will bust them out of jail, and save them!"
It took about a month and a half, from the beginning of the conversation at lunchtime to the time the letters reached Ronnie's mom. With the promise of the letters being delivered to the children, we were hopeful that some of our work had made an impact not only with our children and their families, but also with the children at the detention centers and their families. I have heard from other families in my classroom that made physical contributions to the places mentioned as well as continued the conversation at home.
Even though the conversation in my classroom around this theme has ended, children's process of becoming people with agency, and working through their fears, is still relevant in many dimensions of their lives, and my hope is that it will always be. And for me, when I look back at the beginning of my own process of having a reactive approach to my students' curiosity, I see the fear partially driving my responses. As the conversation unfolded and my own thinking process met up others, like my students and their families, I've found myself in a communal thinking space of not only resources, but also intent to do something about it. To me, changing to a more responsive approach to this difficult situation happened slowly, and I still have a lot of work to do on that front to educate myself around this theme.
It might be just a tiny drop in a big ocean of ideas, but I like to think that with enough drops, we can turn the tide.
Hilltop Educator Institute collaborates regularly with change agents across North America, Europe and New Zealand to provide professional development opportunities in Greater Seattle through evening, half-day and full day workshops known as the Educator Discussion Series (EDS).  Hilltop Educator Institute provides resources and support to educators, programs leaders, children's advocates, and the community at large, in order to widen access and opportunity for all children.  To study at Hilltop for a day, register for upcoming workshops, or learn more about our services, email Mike at institute@hilltopcc.org or visit us at www.hilltopcc.com/institute.
[/et_pb_text][/et_pb_column][/et_pb_row][/et_pb_section][et_pb_section fb_built="1″ admin_label="section" _builder_version="3.22″][et_pb_row admin_label="row" _builder_version="3.25″ background_size="initial" background_position="top_left" background_repeat="repeat"][et_pb_column type="4_4″ _builder_version="3.25″ custom_padding="|||" custom_padding__hover="|||"][/et_pb_column][/et_pb_row][et_pb_row _builder_version="3.25″ background_size="initial" background_position="top_left" background_repeat="repeat"][et_pb_column type="4_4″ _builder_version="3.25″ custom_padding="|||" custom_padding__hover="|||"][/et_pb_column][/et_pb_row][/et_pb_section][et_pb_section fb_built="1″ _builder_version="3.22″][et_pb_row _builder_version="3.25″ background_size="initial" background_position="top_left" background_repeat="repeat"][/et_pb_row][/et_pb_section][et_pb_section fb_built="1″ _builder_version="3.22″][et_pb_row _builder_version="3.25″ background_size="initial" background_position="top_left" background_repeat="repeat"][/et_pb_row][/et_pb_section]