Institute Blog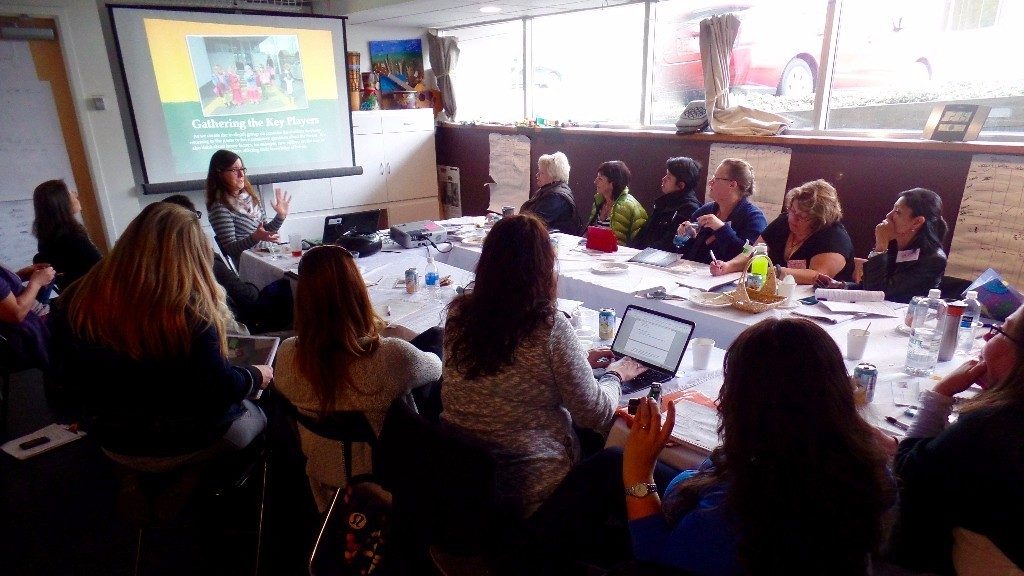 Reciprocal Influence
by Sarah Felstiner, Curriculum Director, Hilltop Children's Center
We often host Study Days here at Hilltop Children's Center, with groups of educators from other programs coming to visit in our classrooms, peruse our Pedagogical Documentation, and meet with Hilltop educators. We began offering these Study Days in response to requests for visits, from colleagues who wanted an up-close view of the work that's happening in Hilltop classrooms on a daily basis – prompted in large part by the reputation Hilltop has gained by being featured in many publications and videos from Harvest Resources.
We've been pleased and humbled by this attention, and perhaps unprepared for what a gift these visits have been to our own development as educators. Each time a group of visitors comes to Hilltop, we get to hear their experiences from their own programs, and their impressions of Hilltop. And we get a glimpse of ourselves through fresh eyes – what is it here that delights, or surprises, or concerns these visitors? And what does that say about the choices we've made?
I still recall the very first time we opened our doors to visitors in this way, back in about 1999, I believe. We'd invited educators to come learn about our approach to curriculum planning – a responsive, emergent, child-centered model that builds possible plans week-by-week based on the children's questions and interactions. One of the attendees, who was very new to this kind of reflective pedagogy, couldn't quite believe that we'd managed to escape the daily grind of creating meaningless pre-formatted craft activities for the children to complete. She raised her hand, and with a look of equal parts bewilderment and hope, she tentatively asked:
"So…you don't cut anything out?"
I could hear in her voice the discouragement of those endless hours – probably at home and on her own time – painstakingly cutting construction paper shapes for whatever the pre-determined theme of the week was, so that children could cover the shapes in crayon or cotton balls. Suddenly she could see that there was another way, a partnership between children and educators that brought joy and meaning to classroom activities. And through her revelation, we too got to see what we were doing in a new light…we understood that our form of curriculum development wasn't just creating a richer experience for the children in our care, it was enriching the lives of Hilltop's educators, as well.
The gift of new perspectives has continued from that first tour, with each set of visitors that comes through our doors. We had a particularly poignant and revealing visit, recently, with a group of educators working in the Residential Parenting Program at the Washington Corrections Center for Women. Their Early Head Start school is housed inside the Corrections Center, and serves infants and toddlers who are born in the prison and live there until age 3. It's the only program of its kind in the county. We found it humbling and eye-opening to spend a day with these educators, hear the stories of their work, and help them think through ways our Hilltop practices and structures could support them, in a context that's so very different from what children at Hilltop experience.
We recently heard back from one of the program leaders who came on that visit, who remarked: "I have thought often about our wonderful experience at your center… I was especially inspired by your family engagement techniques, and I have been thinking deeply about how we could move some of our practices in your direction. While I see the differences in the populations we serve, I also see the similarities, and I am excited by what could be." 
And another WCCW educator also reflected on her visit to Hilltop, saying: "Our experience with you was powerful and has prompted many conversations regarding our own practice, both in the classroom and with our families. Thank you for inspiring us to explore additional ways to approach our work with young children and their families."
The Early Head Start program at WCCW is remarkable, and the educators who work there are clearly dedicated, thoughtful, sensitive practitioners. Their visit to Hilltop helped me understand that reflective practice and responsive planning could possibly be relevant to all children and families, regardless of the setting, and could be supportive and effective for all educators. At Hilltop our children, families, and educators experience many opportunities and privileges that support our efforts to craft a responsive program. So I found it quite compelling and reassuring that this kind of child-centered work is happening in such a wide variety of schools.
If you are interested in visiting Hilltop for a Study Day, we would love to welcome you to our classrooms, share our work with you, and most of all, to hear YOUR stories. Our next Open Enrollment Study Day takes place on Friday, June 9th, and you can register to attend here. Or you can gather a group of 6 or more people, and select your own date for a Study Day at Hilltop. We look forward to learning with you.
[author] [author_image timthumb='on']https://hilltopcc.com/wp-content/uploads/2016/01/Sarah-Felstiner-photo-square.jpg[/author_image] [author_info]Sarah Felstiner is the Curriculum Director at Hilltop Children's Center, where she has worked since 1995.[/author_info] [/author]