Institute Blog
Speaking In Tongues
[et_pb_section bb_built="1″][et_pb_row][et_pb_column type="4_4″][et_pb_text _builder_version="3.0.76″ background_layout="light" border_style="solid"]
"Could you tell me the normal way?" a kid asked me recently. "In English," piped up another kid. "Yeah, the way regular people talk," the first kid added.
It's not unusual for a kid to ask me to tell them something in English, either because they aren't understanding something or because they do understand but want to hear a direct translation of a particular word or phrase as a part of their learning process.
I've heard kids use words like 'normal' and 'regular' before, along with 'the right way' and 'how you're supposed to,' and when I ask kids questions to clarify what they mean it quickly becomes clear that what they mean fits the definition of these words in relation to their lives:
Normal (adjective): conforming to the standard or the common type; usual; not abnormal; regular; natural. Regular (adjective): usual; normal; customary.
These comments are not about their language learning but about noticing and understanding difference and when they come up, I talk with kids about what they mean. I do this by posing questions with the goal of getting us to consider people outside of ourselves and the idea that everybody's normal doesn't look the same and, in this case, there are places (even in Seattle) where the predominant language is something other than English.
However on this particular day, with the widespread fear and hatred in our country on my mind, these words stayed with me in a more personal way. After some reflection and brainstorming with Emily, Hilltop's mentor teacher, I knew I wanted to do more work here to help expand the kids' ideas about "normal" and one way to get at that idea was to explore this idea of languages with kids.
Developmentally at this age, kids are starting to extend their view of the world beyond their families to include their friends, neighborhood, and school so I set out to gather data from kids about their view of the world, hoping that would lead me to a next step.
Questions I asked: What languages have you heard of? Do you know someone who speaks another language, someone in your family or a family friend? How many languages do you think there are in the whole wide world, a lot more than our list, about the same amount? What language do you think the most amount of people in the world speak?
Kids talked about parents, and grandparents and neighbors that speak other languages and were unanimous in thinking that English is most spoken language in the world. Their estimates of the number of languages in the world ranged from six and ten to eight hundred, more than one thousand, a million and ten billion to simply "mucho."
After this preliminary data collection I started looking for a way to expose kids to other languages and settled on playing a short video that showed people from different countries saying 'hello' in their language. As we watched I named the country the person was from and we would repeat each different hello. Kids commented on the pictures that they saw and the names of countries they had or hadn't heard of. My intentions behind facilitating these conversations is exactly that, creating space for conversations that might open up the possibility of an even wider world than they can fully imagine and an eagerness to be a part of it.
Many kids were interested in practicing the different greetings and requested a second viewing so they could do it again. While a few kids chose favorite hellos or country names, others became focused on the flags that appeared with each new speaker. A couple of groups noticed that India showed up as the country for six different languages. Some of the more eloquent responses to the video were "wow" and "whoa" followed by "that was a lot" and "mucho languages". One child had an eyes-wide dropped-jaw reaction to the number of different hellos and after a couple of false starts told us, with eyes and jaw still open in wonder, "that was a lot a lot a lot, that one place had six different ones!"
Here are other words kids thought they would be interested in hearing in different languages:
You're welcome
Thank You
Flag
World
Love
Japanese
Family
My name
Now What?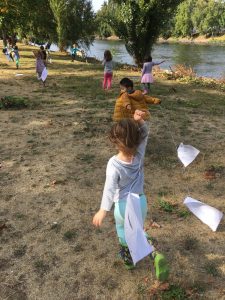 As a way to offer kids more information about their world right here at Hilltop I am making a chart listing the languages they have context for, leaving space for other languages to be added as needed, and inviting families, visitors and staff to mark each language that they themselves speak or that a friend or family member speaks. There are quite a few languages spoken in our community and I'm hoping that with any luck people will help visually reflect that idea back to us.
Because flags became a point of interest to so many kids during these preliminary conversations I'm also planning ways for the kids to explore flags as another way of expanding their world view.
Languages and voices connects us all as human beings and it is a powerful tool for global understanding.  Over the course of the last 12+ months, an international group of World Forum Foundation educators, social scientists, filmmakers, and advocates have embarked on a journey to create a documentary called "Voices of Children." Filming of this documentary, which took place in five countries, aims to expand on the UN Convention on the Rights of the Child by advocating for a more inclusive view of children's rights from the perspective of the children themselves.  One of the film creators, John Nimmo has been invited by Hilltop Educator Institute for a viewing of this groundbreaking short documentary film and a discussion. For more information on this powerful event, click here!
Jill is an educator with 3- to 5-year-olds at Hilltop Children's Center, where she has worked since 2006.  She became the Spanish teacher in 2013.
[/et_pb_text][/et_pb_column][/et_pb_row][/et_pb_section]