Institute Blog
Jewelry, Art and Social Justice
The pandemic exposed a lot things in our society. How little regard we have for educators especially early childhood educators and the childcare system. How we view, treat, and support or Black, Brown, Indigenous, brothers, sisters, and two-spirits. How White Supremacy and the manifestation of racism is embedded in every fabric of society. How empathy and compassion can go a long way!
Empathy and compassion.
It feels as if those two things are missing now a days.
With the hustle and bustle of everyday life. With the strict cleaning procedures we have implemented at Hilltop to keep adults, children, and families safe. With the racial reckoning society is going through. It can be easy to forget to stop, look someone in the eye, and ask them how they are truly and honestly doing.
And as I stood there making coffee one Monday morning, chatting with my colleague Jireh (she/her) who was cutting fresh fruits for the children we serve, a conversation arose. We reflected on the many tough decisions, conversations, and challenges we have been through as a center. We also reflected on how we have grown tremendously over the last 18 months and paused to celebrate our many success as individuals, as an organization, and as a community. And while these conversations lasted a short time, over time, as we progressed, we started to get to know each other a bit better. My interests, what reminds her of home, each other's quirks! But it wasn't until a conversation about her experience as a Filipinx-American that really got me to examine myself. Examine the ways in which even I, as a voice of color, engage in othering. In which ways does the workshops I deliver, the thoughts I share, my experience and my conversations on race that is often told through binary terminologies – Black and white – how that renders other voices of color invisible. It was during that chat and subsequent ones on ways we can embody anti-racism principles even as voices of color, that had me reflecting on ways we can uplift the experiences of Non-Black Voices of Color.
While unable to recount the entirety of that conversation from memory, I took the time to sit down with Jireh, to hear ways in which she is creating cross-cultural solidarity between my people and her community and hear a bit more about how her identity shapes her. Here is a transcript of that conversation.
Mike: Hi Jireh, thanks for chatting with me. I want to jump straight into it. I'm Afro-Caribbean. And in being so, my perspective and what I offer to the community when I am engaging them, are around ways in which anti-Blackness plays out in our systems here in the United States. I think that's representative of how most of the conversation about racism is talked about in broader society, at least that's what my Twitter shows. It's very much in this binary notion of race. It's Black and white. And while I do see why so much of the conversation focus on anti-Blackness, the original sin of the United States, I do think that at times, it doesn't highlight the many different ways racism shows up in other communities. I mean, afterall, White Supremacy has survived so long because it often pits voices of color against each other. So, can you tell me a little bit about how does White Supremacy renders the Filipinx, Pacific Islander and Asian community invisible from your perspective?
Jireh: The way I interpreted the question reminds of the colorism. I think that White Supremacy dismisses the Filipinx, Pacific Islander and Asian community by promoting the idea that having "light skin" was better. I remember growing up my elders would gift me papaya soap (a skin whitening product). From what I learned, the color of your skin reflected your status in society. Because you are able to afford to be lighter skin and that you are not working in the fields for your whole life. Now, it might have come from their best intentions but it impacted my self-worth. Was my skin color not good enough? I have very vivid memories of whiteness every time I visit the motherland. Everywhere I go, all I see on the advertisement boards are lighter skin celebrities promoting the latest skin whitening cream. My mom would also make sure I wear sunscreen and would use an umbrella to protect us from the sun. For a very long time, the Philippines has always valued lighter skin than the majority of darker skin. 
Mike: When systems are created on the idea of White Supremacy and then it is reinforce culturally, structurally and individually, it often leaves voices of color feeling helpless. It often leaves us feeling like we can't say anything or speak up without fear of shame, blame, or forms of retaliation. Finding our voice to speak up and speak out means unpacking some of the ways we have internalized racism ourselves. I've seen you blossom in that department which is a delight to see. But, how do you pay it forward? In other words, in which ways do you help children in your community who identify as Filipinx or Pacific Islander find their voice and agency?  
Jireh: For me, it was all about, "If I can do it, so can you." Growing up, I know I couldn't fit within the norms. I didn't follow the footsteps of my relatives by being in the medical field, attend law school, become a nurse etc. It was scary at first not having someone like me to look up to, but I'm glad and honored to blaze a trail for many. I think being a good role model to kids who identify Filipinx/Pacific Islander helps show them what they can be capable of. I get to work first-hand with the next generation of world-changers and provide them the important skills and tools in order to be successful citizens in society.
Mike: In the anti-racism work that I do in the community, I hear a lot of people say "I don't know where to start." We've had conversations before in which we talked about how the burden of getting this work started often falls on the shoulders of communities of color. And then when we are given the permission to dive into this work, we often fail because we aren't given the adequate tools, room, or support in order to address it in the predominate white spaces we operate in. On the flip side, we are often much more successful finding ways to institutionalize this in our outside lives. Can you tell me one way you have found a way to "start" for a lack of a better term, in your own life? How did you get started?
Jireh:  My small business actually stemmed out of, "quaranthings," and it was also around the times when "Black Lives Matter" was in the headlines. On my first launch, I donated proceeds towards "Black Lives Matter" and "Color of Change." I knew growing up, I wanted to give back to the community but wanted to find creative ways to use my own gifts and talents than just donating and reposting on social media. I wanted to not just keep myself accountable, but others as well. I find that there's power when we work together towards the same cause and I am in awe of that every time I launch a collection.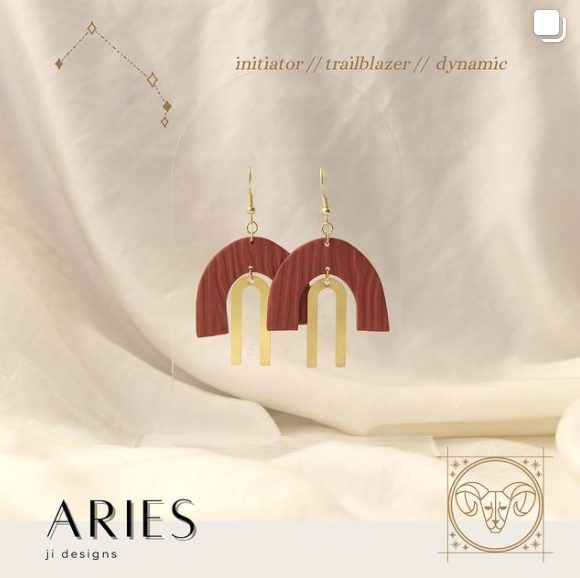 Mike: How do you connect your passion of art and jewelry making to social justice movements?
Jireh: I use different causes as a way to influence the designs of every collection. So, for example, a while ago the Philippines was highly impacted by multiple typhoons. During the month of October (which was Filipinx-American History Month), I made a collection all influenced by my culture. I donated half of the proceeds to an organization in the Philippines that is dear to my heart. 
Mike: With the latest line of jewelry you created, you intentionally picked two organizations to support? Why did you pick these two organizations to support? 
Jireh: I chose these two organizations (STOP AAPI HATE and Feeding Texas) as a response to the horrible and unfortunate incidents that happened in our country recently. I loved the mission of each organization and appreciate knowing what the proceeds will specifically go towards. 
Mike: And finally, how do you use social and racial justice movements like this and engage the children in your classroom around activism? 
Jireh: By asking questions. I found it cool when kids are aware about what's happening in the world. Just recently, we read a book called, "We Are Water Protectors" by Carole Lindstrom and we talked about our environmental impacts and how it relates to the indigenous people who are trying to care for our land. Sometimes the roles switch too and the kids ask me if I am aware of what "Black Lives Matter" mean or if I got to watch the presidential election. Recently, we are implementing "Wander Wednesdays" (since they are done with calls earlier) in hopes of integrating curriculum around social and racial justice. 
Mike: You donate half of the proceeds of the jewelry you sell to STOP AAPI HATE and Feeding Texas. How could people buy these jewelries from you and is there anything about the jewelry or your business you'd like to share?
Jireh: All the jewelry I make are nickel-free and hand-made with love. So far, I've raised a little over $2K towards the two organizations from this collection. I'll continue to donate half of the proceeds until I sell everything from this collection. People can contact me through my Etsy shop: JiDesignsStore.
Mike: What can we expect from you moving forward?
Jireh: Some things to look forward to in the next three months: restocking on my signature, "Kalayaan" earrings from my Filipinx collection, open up custom orders, and preparing for my next collection. I'm thinking of doing a collection in relation to environmental justice!
For custom orders, you can check out the whole menu of my earrings I've made in my Instagram @ji_designs_ and direct message me there. 
Mike (he/him) is the Sr. Community Engagement Manager for Hilltop Children's Center and Educator Institute, where he has been working since 2017.
Jireh (she/her) is a preschool educator, currently working with our school-aged remote learning program in our Fremont location during COVID-19.