Institute Blog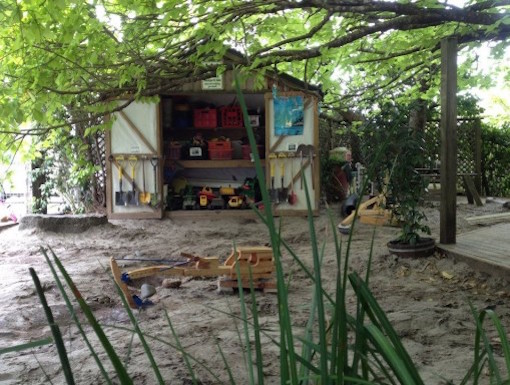 Inspirations from New Zealand
by Sarah Felstiner, Curriculum Director, Hilltop Children's Center
What if an entire country developed a compassionate, bi-cultural, strengths-based framework for Early Childhood Education? Could you transform the experiences that all children in that country encounter, and even begin to address historical and cultural injustices, by starting with that country's youngest citizens?
At a recent meeting of our local Reggio Roundtable discussion group, I got to hear from two Seattle educators who participated in a recent Study Tour to Auckland, New Zealand, led by Margie Carter. Hearing their reflections and experiences got me thinking about my own visit to the schools of New Zealand several years ago, and I find myself re-inspired to take up the possibilities offered to us by the work being done in those schools.
In the spring of 2013, I headed off for a week-long study tour of early care and education centers in New Zealand with a couple of specific goals in mind. I wanted to deepen my understanding and practice of the Learning Stories model, and marvel at the power of having a whole country commit to reflective practice in early education. While in New Zealand, I did come to understand the 4 principles and 5 strands of Te Whāriki, New Zealand's national curriculum for early childhood education. And I also had the chance to read many, many Learning Stories, and consult with the educators who wrote them. But there were two other unexpectedly powerful learnings – two key elements of my time in New Zealand that I found most transformative.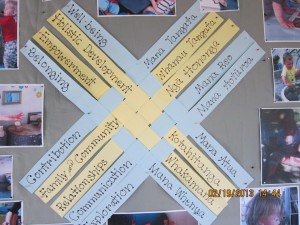 The first was the robust presence of bi-cultural education in New Zealand, also known by its Maori name, Aoteaora. The name Te Whāriki can be translated as "the mat we all stand upon," which is in itself a Maori cultural concept, encompassing both a sense of how the many elements are woven together, and a commitment that this work is grounded in shared values and beliefs. The four principles of Te Whāriki are, again, more closely tied to Maori culture than to British or Western beliefs: Empowerment, Holistic Development, Family & Community, and Relationships. Interwoven with those principles are the five strands that educators use to develop and assess their curriculum: Well-being, Belonging, Contribution, Communication, and Exploration.
This photo shows a documentation board in one of the infant-toddler classrooms I visited, with the principles and strands (in both their English and Maori translations) interwoven into a virtual "mat" which illustrates how seamlessly and intentionally Te Whāriki is woven into everything the educators do. I had heard this was the case, but not understood what it might mean for the bicultural (Maori/English) nature of their early childhood programs. About 70% of New Zealanders are of white British heritage. The rest are largely Maori, although in Auckland (where all the schools we visited were located) there is also a large Pacific Islander population. There is a long and difficult history of colonialism, discord, and treaties in New Zealand, which I only came to partly understand.
But what's clear is that when tasked with developing a national early childhood curriculum, the educators intentionally constructed something that – from its basic design on out to each element of its execution – honors and reflects Maori culture. More than that, since its introduction in 1996, it has been raising a generation of children with knowledge of that culture. What a profound expression of anti-bias work this is. Early education in New Zealand has the chance to actually undo institutionalized oppression on a national scale.Of course the degree of this commitment to bicultural education must be different in each program, and I saw variety even in the seven sites I visited around Auckland. But what matters is that the curriculum itself is built around the oppressed rather than the dominant culture, and that it requires of schools and educators an intention for bicultural education.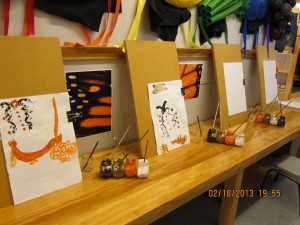 The second unexpected revelation of my time in New Zealand was the emphasis that educators, administrators and university faculty place on Teacher Research. At Hilltop Children's Center, we often say that we see "teachers as researchers" in the sense that we like to document and reflect on the children's work and play, and use that reflection to guide our next steps. But I met educators in New Zealand who are quite seriously and rigorously conducting action research projects in the classrooms and schools. At a school called Kids Domain, on the campus of the Auckland Hospital, the educators were just completing a five-year study about teacher identity, which involved small and large group meetings over time, personal writing, and video testimony.
This photo shows a studio provocation at Kids Domain, a close study of butterfly wings. This was offered as part of a larger investigation about transformation (including actual butterflies hatching, lots of dramatic play, parent evenings in costume, and more) and which itself grew out of the educators' self-study about their own identity. I was blown away by the thoughtfulness about this research process, not just in terms of children's development, but for the educators' own personal and professional growth.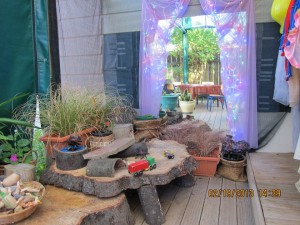 While in New Zealand, I was tempted to simply fill my eyes and heart with the beautiful physical environments (and they were stunning, from the use of outdoor spaces to the carefully designed provocations), but I also tried to look beyond that beauty, and worked to understand the structures and supports that underlay the work educators in New Zealand are doing.
I was provoked by the deep implications of bi-cultural education, and how that contrasts with the anti-bias work we strive to do in our own context. It's interesting to think about how potentially impactful these early years are on children's development of cultural competence and fluency. And I was struck by possibilities for Teacher Research as a potential model for both professional development (or professional learning, as it's called in New Zealand) and for the development of our Hilltop Educator Institute, which came into being shortly after my trip to New Zealand.
[author] [author_image timthumb='on']https://hilltopcc.com/wp-content/uploads/2016/01/Sarah-Felstiner-photo-square.jpg[/author_image] [author_info]Sarah Felstiner is the Curriculum Director at Hilltop Children's Center, where she has worked since 1995.[/author_info] [/author]