Institute Blog
So…You're Thinking About Reflective Practice
by Chelsea Myers, Educator, Hilltop Children's Center
"For children to truly become builders of the future, it's imperative that they themselves experience classrooms as meaningful communities…our classroom communities must be models of the kind of communities we want our students to nurture throughout their lives."

-Karen Engels, "What's Love Got to Do With It?"
"Reflective practice" has a fuzzy, abstract reputation.  Even so, it is an invaluable aspect of teaching and learning.  For myself, it is the tool that helps me be a responsive, truly helpful educator.  It is how we build connections with our students.  It is how we give them a sense of belonging, a feeling that they are in a safe place to play, and a knowing that they are valued for exactly who they are.  It is how we are able to understand and then extend their learning.  All of this is needed for them to be confident, successful learners.
Asking & Answering Questions
It may sound like a no-brainer, but the meat of reflective practice is asking yourself questions.  If that doesn't feel quite natural to you, imagine a three-year old living in your brain constantly asking "Why?".  Implementing a reflective practice means that everything is up for questioning.
Why am I putting out this activity? What learning goal does it serve?  What will attract the children?  Repel them?
Why am I saying "No" to this? What do I need to know/change to make it a "Yes?"
What helped that transition go so smoothly?
This kind of wondering approach is important when it comes to interrupting our assumptions.  In order to respond to our students' needs, we have to take time to see things through their many perspectives.
"If the child is off-task…maybe the problem is not the child…maybe it's the task."

-Alfie Kohn
Relationships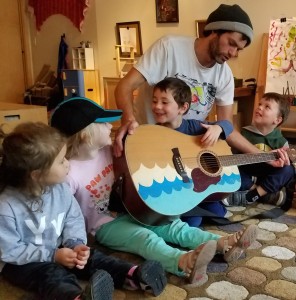 Answering those questions is difficult without relationships with our students and families.  Professionally, it can feel like a teeter-totter of demands.  On one hand, we spend our days with emotional beings who we love, support, and guide.  They ask us for love.  On the other, there are many cultural norms that influence our views on teacher/student relationships that ask us for hierarchy and "professionalism."  My own reflective practice inspires a lean towards egalitarian relationships with my students and families.  I have found that I can hold the expertise in child development and how my students are doing in the classroom and still apologize when I regret how I handled something or take a new approach when my first attempt flames out.  Also, I am modeling to my students how I want them to handle conflict, failure, and growth.
"When basic physical and security needs are met in an accepting environment, children are able to risk growth and experience success.  When love and belonging needs are met, the children are able to develop competence and self-acceptance."

-Nancy Weber, "Patience or Understanding?"
There is an emotional and a research investment needed to build authentic relationships with children and families.  We give hugs and we take notes.  We play dinosaurs and we schedule conferences.  We celebrate birthdays and we observe.  We open our hearts and we collect data.  Eventually, we create our image of the child and their family.  This image leads us back to those questions and we can continue to help them move forward.
Risk-Taking
All of this requires us to be a bit vulnerable, a bit self-aware, and a lot flexible.  There needs to be a willingness to be wrong and a willingness to right that wrong.  Reflective practice also asks us to be willing to try something new as well to let go – let go of "we've always done it that way," let go of assumptions, let go of pride.
These moments of risk-taking are when I lean on my co-teachers and colleagues the most.  We all have ideas and forgiveness to offer each other.  We can also be the ones asking questions to support reflective habits.
Building a Reflective Practice
In breaking down some of the bigger components of my own reflective practice, I hope you have found some jumping off points to deepen your own.  Do you see a value in reflective practice?  It has been worth it to me because I have seen my understanding of my students and their learning expand.  I am better able to respond to their questions, their needs, their interests because of reflective practice.  How could it influence your work?  How does it already impact your teaching?  What else would you add as a component of reflective practice?
[author] [author_image timthumb='on']https://hilltopcc.com/wp-content/uploads/2014/12/IMG_2417.jpg[/author_image] [author_info]Chelsea Myers is an educator with 3- to 5-year-olds at Hilltop Children's Center, where she has worked since 2014.[/author_info] [/author]