Hilltop's After School Program
Big Kids is an
innovative, child-centered
after school program for elementary school children ages
five to nine
. The use of emergent curriculum offers children a lovely way to transition from a full day of school to home.
During their time in Big Kids, children:
build community
practice social-emotional skill building
develop leadership skills
work on anti-bias practice
bring their ideas to life
Educators scaffold children's learning by offering creative combinations of materials, outdoor experiences, and the opportunity to focus on projects over a sustained period of time.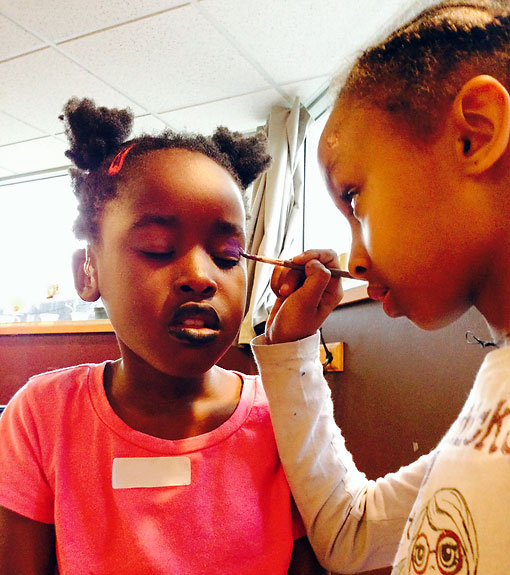 Is my child eligible?
Big Kids After School is open for elementary school aged children (K-3) from 2:15-6:15 each day. On Seattle Public School closure days, Big Kids is open from 8-6:15.
How do kids get to Hilltop?
Seattle Public Schools (SPS) provides transportation on school buses from Queen Anne, Coe, John Hay, Lawton, Catherine Blaine, and Lincoln elementary schools to Hilltop each day after school. Teachers wait for the children at a bus stop just outside of Hilltop.
What about days when Seattle Public Schools are closed?
When school is closed for the day the Big Kids After School program is open from 8:00-6:15. The costs for which is included in your after school tuition. Big Kids will typically spend the day on field trips around the city.
What about summer?
Because we know that summer is a busy time, 
Big Kids Summer
 is a completely separate program. Many of our friends from Big Kids After School attend Big Kids Summer, alongside Hilltop alumni and new friends! Registration is available in early spring for your family to sign up for our summer camp.
Can my child drop in?
Big Kids is not a drop-in after school program. In fact, we ask families who join Big Kids for a commitment of a school year, as we have found high value for children in connecting to a community over the course of a year.
Program Values
Values at the Heart of the Big Kids Program
For children, a key developmental task is growing a healthy sense of self in relationship with other people. We support children in this work by creating opportunities for self-reflection, playful exchanges, and projects. Some ways that you'll see this value reflected in our program include:
Children and teachers eat meals together. Coming together around the table creates opportunities to share about ourselves.
Our days hold extended periods of intentional, open-ended play. As children play together, they build relationships with each other.
We play games that help us come to know each other in light-hearted ways.
We work together on engaging projects that invite collaboration and problem-solving. These projects draw forth children's artistic vision.
Teachers keep an eye on recurring topics that we can explore through projects. When we grow projects from children's passions and pursuits, we honor who they are and what they care about.
Teachers work with each family, seeking to learn about their values and celebrations so that we can build connections between home and Hilltop.
Stories from the classroom: Building self-confidence
The other day in the Big Kids room I saw Mateo playing by himself in the library with the cubes.  Mateo can sometimes be found playing solo and quietly in a corner of the room, immersed in whatever material has been left out. This particular scene struck me as sort of new, though, because I hadn't seen Mateo building with cubes before, and the item he had built was pretty specific and looked more advanced.
I sat down with him and asked what he was working on. He said he had built a spaceship. I noticed he had used strips of black tape to keep the cubes together so his project could stay together horizontally, not just vertically. It was exciting to see Mateo imagining bigger things and bringing them into the real world, mixing different materials that aren't traditionally used together.
I wondered how Mateo had thought of this. Had he seen other kids making this and decided to try it himself? When I asked where he got the idea, he said, "I wanted to make something without the instructions, when I searched my brain I came up with a spaceship."
I explained that it was great to see him using his imagination and coming up with such an interesting creation that he was proud of, using multiple materials. He told me he was also planning on building something else that day. Sure enough! Later I saw him experimenting by making parachutes with paper, string and tape and something to weigh it down.
Have you noticed Mateo's projects becoming more complex? His confidence for trying out new mediums increasing? What are other ways that you have seen Mateo trying on or discovering new things recently