[et_pb_section fb_built="1″ admin_label="section" _builder_version="3.22″][et_pb_row admin_label="row" _builder_version="3.25″ background_size="initial" background_position="top_left" background_repeat="repeat"][et_pb_column type="4_4″ _builder_version="3.25″ custom_padding="|||" custom_padding__hover="|||"][et_pb_text _builder_version="4.0.7″]
A few weeks ago, Raindrop Room (a Hilltop classroom of two-year-olds) took a walk along the canal trail – a long, paved pathway near our playground that we enjoy visiting. "Woa, the clouds are moving!" observed Nick, one of the Raindrop educators. He pointed to the sky. Several children looked up. "What makes the clouds move?" Nick asked the group.
A pause. "Trees," said Rachel, one of the two-year-olds.
"Hmm," said Nick, "Well, the trees are moving, and the clouds are moving – they're moving together. So, what makes them both move?"
"Trees," said Rachel again, this time with more confidence.
"Birds," said Carly, another two-year-old.
This is science, and these children are practicing their scientific thinking. I smiled and asked myself: Where are these ideas coming from? What experiences do these children have that support their theories?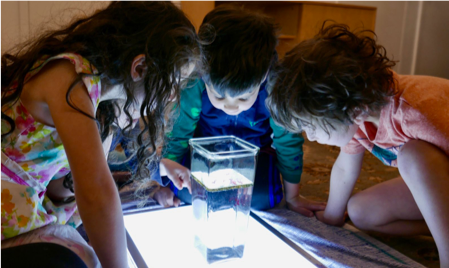 Then I thought through some possible logic: At the height of a toddler, it's hard to see how high clouds are, how tall trees are, or how high birds fly. From their perspective, it may look like trees and birds touch clouds. They likely know that trees and birds move – we've observed that together on the canal. And they likely know that trees and birds are solid objects that are capable of moving other things – they have experience with sticks hitting bodies, and they have seen birds pick up objects. So, trees and birds that are solid objects that reach up to the clouds can push the clouds. Why not?
Well, I happen to know that's not how it works, but our toddlers have not necessarily figured that out. For Rachel and Carly, trees and birds are their working explanations to describe the phenomenon of moving clouds. I suspect that if I had said, "No, the wind moves them both" (a simplified explanation, of course), they may have heard my words but not let go of their own working theories. Instead, they need to work through what's wrong with their theories – a process that works best if they can figure that out for themselves – before they can let go of or expand their ideas to create new working theories. "Figure that out for themselves" does not mean they must do the work alone, rather that they must think for themselves to find holes in their working theory. For example, a child might test their theory by running an experiment, observe something that doesn't align with their theory, or compare and evaluate theories with their peers.
This is the philosophy I learned while studying science teaching at the University of Washington, and I find it's very applicable to toddlers. Of course, there are times when I do share my knowledge – teachable moments to keep kids safe ("hitting doesn't work"), introduce vocabulary ("that fungus is called Witches' Butter"), and the like. Often, however, I see value in not giving children the answer in order to support them in developing skills such as forming a hypothesis and connecting their experiences as reasoning. It also encourages children's curiosity and creativity – I continue to be impressed by their theories and the connections they're making from their own experiences.
As a science educator, my goal is not to teach children the "right" answer but instead to give them the tools they need to generate their own theories, and then test their ideas for logic, validity, and accuracy. With Rachel and Carly, I hope to revisit their ideas about what makes clouds move in the coming weeks. The next time I'm outside with Rachel and Carly and see moving clouds, I plan on asking again, "What makes the clouds move?" I'm curious to see whether they continue to stand by their working theories or whether they have new ideas. I will also ask other children in the class to share their ideas. Depending on their responses, I may support children in comparing their theories, or I may shift the discussion to focus on one piece of the puzzle, like "What are clouds made of?" While there are many directions that the discussion may go, my ultimate goal is to help the children dig deeper into their thinking and reasoning.

Megan is an educator with 2- to 3-year-olds at Hilltop Children's Center, where she has worked since 2017.
Hilltop is well-known and highly regarded in the Early Childhood Education community,
for our pedagogical approach to working with children and families. In response to consistent requests  from colleagues for trainings, tours, and consultations, Hilltop launched a professional development Institute in 2013. The Hilltop Educator Institute coordinates full-day curriculum training at Hilltop called
Study Days
, hosts a series of professional development workshops called the
Educator Discussion Series
, 
and provides coaching for other schools, facilitated by Hilltop's own educators.  Interested in spending time at Hilltop or bringing Hilltop out to you for a presentation or conference? Visit
https://hilltopcc.com/institute/
or email Mike at institute@hilltopcc.org for more information! 
[/et_pb_text][/et_pb_column][/et_pb_row][/et_pb_section]