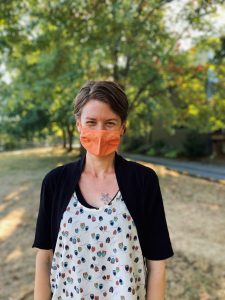 Becky (she/her)
I am a proud member of the Sunlight Room community. I was born and raised a Wisconsinite, but have come to call Seattle my home since 2012. I embarked on my teaching journey over a decade ago, when I discovered a growing passion for early childhood education and the Reggio Emilia approach. I am so grateful to be a part of Hilltop because of how deeply committed the staff is to supporting all children & families, to personal & professional growth, and to anti-bias education & advocacy in early childhood. This place really does change your life. Outside of the classroom you might find me on the hiking trail, riding my bike, immersed in a good book or a knitting project, or learning how to cook a new dish!
Jade (she/her)
Hi everyone, I was born and raised in Washington. I grew up in a small town outside of the city, but moved to Seattle in 2014 to pursue my education. I found my passion for Early Childhood Education when I was introduced to Hilltop through an incredible family I previously worked for. I graduated with my BAS in Early Childhood Education from North Seattle College in June 2019 and am so thankful to jump in to my career as an educator here at Hilltop where I've found community, connection, and joy! My goal is to help provide a safe and welcoming space where children can comfortably explore, grow and connect with others and the environment surrounding them. In my free time, I love to hike, go on walks, exercise, read, go to coffee shops, try out new recipes, eat my favorite foods, and spend quality time with family and friends!
Mischa (he/him)
Red-Shafted Northern Flicker woodpeckers have been roosting near my corner of Wallingford, and though I can hear them most days, I only recently spotted one. In these glimpses, between trees and in puddles, I'm eager to catch moments of natural beauty in my day. These moments are what I strive to share with children: helping them explore their everyday environments and relationships, and encouraging them to tune in to the world around them.