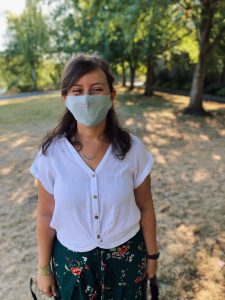 Paty (she/her)
I am lucky to call Sao Paulo (Brazil) and Seattle my two homes! I spent most of my life living in Brazil and moved to the United States in 2011 looking for new experiences. My initial intent was to return to Brazil after a year, but after connecting with fascinating people and experiencing different places I decided to call Seattle my new home.
I finished my Bachelor's degree in Education in 2008 and I have been working with young children since 2006. I started working at Hilltop in 2017 and  very early on I connected with Hilltop's values of contributing to create a  warm, nurturing environment where each child feels valued, respected and connected. A place where we all pitch in, where we can engage in discussions about social justice and creating  meaningful relationships in a child's life.
Outside of the classroom, I find myself getting as much time as I can get out there in the nature! I love writing and dancing, I also like to make use of my skills as a holistic practitioner whenever I get a chance as well as finding great bites to eat in town, new and interesting classes to keep my creative juices flowing and connecting with folks that are now my extended family in Seattle.
Michele (she/her)
Southern Ohio farm girl turned urban teacher, Michele spends most of her time navigating the turmoil that comes with having two adult children (Maxwell and Olivia) and raising a school-ager (Hazel). She attended Ohio University, where she earned a B.S. in Elementary Education and has been an educator at Hilltop since 2006. She previously taught kindergarten in Seattle Public Schools for many years. At Hilltop, she brings her Appalachian roots to the River room by sharing songs and stories and her strange regional dialect. When not teaching she enjoys music, art, knitting, watching scary movies and spending time with Jeremy, her high school sweetheart. She greatly appreciates when people remember to spell her name with only one "L".
Django (he/him)
After beginning my journey in working with young children I had no idea it would lead to a life long career. Nearly thirty years later I reflect on the relationships and shared experiences that have enriched my life, fueled my inquiry, built and reinforced my dedication to reflective practices and guided me through some of my life's toughest challenges.
When I'm in the classroom I enjoy facilitating music exploration and creative movement. I feel strongly that a shared joy for music, no matter the genre can build community and strengthen relationships like nothing else. In addition to storytelling through felt boards I also enjoy playing 'Story Games' using finger puppets and felt creations with the kiddos.
I am married to the love of my life, Patricia whom I met while working together at another school here in Seattle. Outside of work I enjoy biking and exploring nature. I love to travel whenever I can but also enjoy a staycation or local road trip.
I enjoy craft beer, love to cook and tinker with my indoor garden.