Chelsea
I was born and raised in Shoreline but spent my 20s in Fort Collins, Colorado. I've been at Hilltop since December 2014 and I have learned so much already from Jacob, Shalla and the River Room children. After a lifetime of babysitting, camp counseling, and nannying, I officially took up Early Childhood Education in 2010. I was very lucky to get a lot of exposure to the Reggio Emilia approach early on in my career and have continually sought out opportunities to revel in emergent curriculum and the community building between children, families, teachers, and the classroom.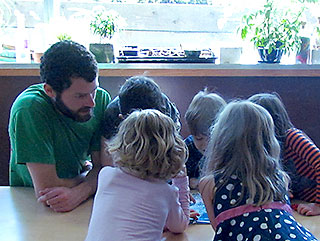 Jacob
I've been working in at Hilltop in various capacities since 2009. This job gives me a chance to share my loves of music, art, language, environmentalism, philosophy, writing, cooking, active living, and general rowdiness. Before Hilltop, I taught in several other centers in Seattle, Shoreline, Mexico, and India, but I set aside my youthful dream of traveling the world because Seattle is just too awesome to give up. I might be spotted happily riding my bicycle through the streets of Ballard.​
Michele
As an Ohio farm girl turned urban teacher, I spends most of my time navigating the turmoil that comes with having two adult children, and raising a preschooler. I attended Ohio University, where I earned a B.S. in Elementary Education and have been a teacher at Hilltop since 2006. I previously taught kindergarten in Seattle Public Schools for many years. At Hilltop, I bring my Appalachian roots to the River room by sharing songs and stories and my strange regional dialect. When not teaching I run, garden and spend time with my high school sweetheart. I greatly appreciate when people remember to spell my name with only one "L".