Lauren (she/her)
A native Seattleite, I grew up in the Queen Anne neighborhood and attended Hilltop as child. I have always had a love for young children and a passion for exploring. As an educator I value curiosity, child-lead learning, and promoting social-emotional development. I believe in the early-learning environment; we are creating foundations that impact children for the rest of their lives. I am passionate about working to create a more equitable environment for all at Hilltop and throughout the ECE community, as well as bringing anti-bias and anti-racist education into the classroom. Outside of work I enjoy cooking, podcasts, and hanging out with friends!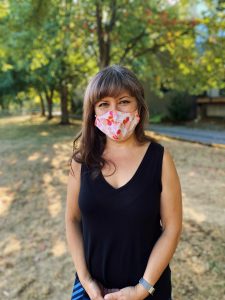 Shalla (she/her)
I have been an educator at Hilltop since August of 2013 but have worked in the field for over ten years. I love working in a truly emergent program and the child-focused curriculum I have found here at Hilltop because I have seen the wonderful things it has done for the children and families I have had the pleasure of working with. In my free time I enjoy cooking, going to game nights with friends, painting and spending time with my husband Patrick.
Charlotte (she/her)
I grew up in the mountains of Colorado where I found my love for the outdoors and discovered my joy for working with children. After spending my summers in high school as a camp counselor, I headed to Fort Collins, CO and obtained a B.S. in Early Childhood Education from Colorado State University. My partner and I then relocated to Seattle after graduating. I have spent the majority my career as an educator learning alongside children ages 2-6. Additionally, I have a Washington State teaching certificate with an endorsement in early childhood education.