Joel
I manage Hilltop's professional development Institute, including coordinating professional visits, trainings, coaching, and other opportunities for collaboration between Hilltop educators and the larger early learning community.
I came to Hilltop in the Spring of 2010 as an intern in the Beach Room.  Shortly thereafter, I also began work in the Big Kids program.  In the fall of 2014, I shifted out of the classroom and into a new role as the business manager of Hilltop's professional development Institute.  In my time at Hilltop, I have learned much from its very unique environment, educational philosophy, approach to working with children, and, of course, community.  And in my role with Hilltop's Institute, I am honored to have the opportunity to build systems for sharing that learning with the larger early learning community. I have a B.A. in Children, Youth & Family Studies and am working on my M.A. in Human Development from Pacific Oaks College.
Ellie
I've worked in educational settings since the age of 16.  Most notably, I spent four years teaching fifth grade at a public school in Phoenix, Arizona and another four years teaching preschool at Hilltop.  While teaching in Mountain Room, I developed a passion for emergent curriculum, Reggio inspired education, and studio work.  Last year, I graduated with my second Master's degree in Educational Leadership and Societal Change from Soka University of America, located in Southern California.  For the past eleven months, I've been a nanny for a lovely family in Shoreline. I'm looking forward to re-entering the classroom and building relationships with my co-teachers, students, and families as we collaborate, learn, and grow alongside one another. In my free time, I enjoy walks with my husband Jason, hanging out with my quirky cats Petey and Rascal, watching movies while munching on popcorn with extra butter, and visiting my family/eating the delicious food in my home state of Oregon.  Reading a good book, on a picnic blanket, in the sun, is also a favorite activity.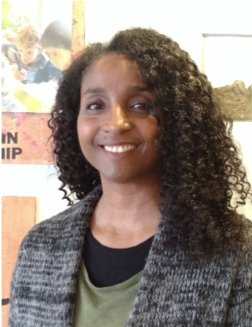 Marie
I am excited to join the Big Kids community here at Hilltop.  Born in Kingston Jamaica. Raised in Calgary Alberta, Canada. I grew up in a multicultural community.  Married 26 years, I am a mother of 3 young adult children – 2 boys and a girl. I received my Associate's degree in the field of "Social Work" from Mount Royal University in Calgary/Canada. 
Recently I graduated with my Liberal Arts degree in Human Development and Learning. Currently attending Antioch University in Seattle, where I am completing my Master's Degree in clinical Mental Health and Psychology, with a concentration in Drama Therapy. My academic training has been invaluable to me, mostly it has taught me about the value of perseverance, leadership and discipline and has exposed me to various genres involving art.