Joel (he/him)
My name is Joel and I've been a part of this incredible school community for over ten years. I started at Hilltop as an intern, finishing up my Bachelor's degree in Children, Youth, and Family Studies. I was immediately impressed by Hilltop's approach to teaching, curriculum, and interactions with children and families. When my internship came to an end, I jumped at the opportunity to shift into a full teaching role. Since then, I've done a lot of growing – getting married to my husband, completing a Masters degree in Human Development, helping to launch Hilltop Educator Institute, and more recently, spending several months exploring Barcelona, Catalunya, and the surrounding region. Hilltop is a place that's all about growth – for kids, parents, AND Teachers 🙂 One of the things I most enjoy about working in the Big Kids program is the opportunity to build trusting and collaborative relationships with the kids, where both kids and educators feel they have a voice and an ability to contribute to what happens in their classroom. It's amazing what children and teachers can create together! I can't wait to get to know you and your family. Be sure to stop by the Big Kids classroom and say hello!
Layla (she/her)
After high school, I went straight to Western Washington University to major in French and minor in Teaching English to Speakers of Other Languages, graduating in 2009. Shortly after serendipitously stepping into a role with preschoolers at a French immersion P-8 school, I decided to switch gears and study Early Childhood Education at North Seattle Community College, completing the AAS program in Fall 2014. I've been with Hilltop since 2016 when I joined the Raindrop Team and in the fall of 2019 transitioned to Big Kids in the afternoons, as well as working with the Program/Admin team on the food program, Hilltop Institute, and my role as a Step Up Coordinator in the mornings! Our current children are the future's leaders, decision makers, and global stewards. With reflection, partnership, and curiosity, we can work to set these children up to have the tools they need to successfully handle the incredible challenges ahead of them. Other things I regularly practice are: biking, cooking, gardening, dehydrating or fermenting foods, backpacking, reading sci-fi/fantasy and social commentary/analysis or ECE non-fiction, playing puzzle solving video games, and traveling the world with my college sweetheart, Joe (we met in math class on the first day of school!). I am easily intrigued by new technologies and science, and I love to try out or observe new skills. Periodically, I work on some coding and/or electronics projects, too. One of the most marvelous things humans can do is wonder. From the first time I stepped inside, I knew Hilltop to be a wonder-filled place, and I am thrilled to be part of the Hilltop team with all the people that make it the marvelous community it is!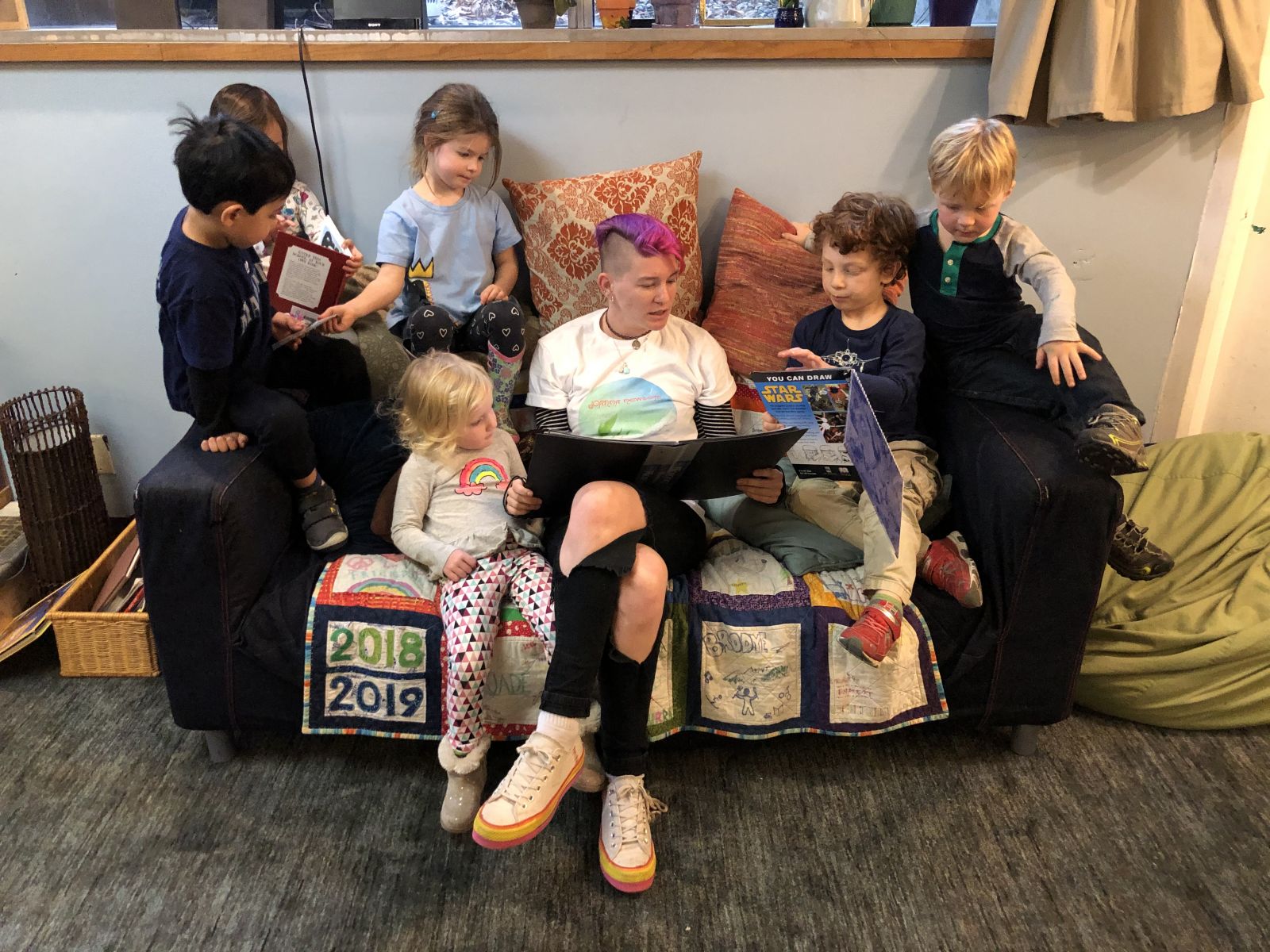 Mace (they/them)
Hello! My name is Mace, I grew up in Northern California but moved up to Seattle about 7 years ago for college where I studied Educational Ministry and Reconciliation Studies at SPU. Throughout my life I have always loved working with and learning from kids of all ages. Since working at Hilltop I've felt my passion for children's curiosity and wonder come alive as I get to play, observe, reflect, and imagine with educators and kids alike. I believe children have so much wisdom and insight to offer each of us and I try to bring this attitude to every kid I encounter. When I am not at Hilltop you will find me painting, listening to music, or hosting a weekly podcast that celebrates curiosity.