Darline (she/her)
Executive Director
Darline Guerrero is life-long student and educator on a mission. As the Executive Director, she is responsible for assisting the organization in maintaining high-quality delivery and advocacy. She has oversight of the center and institute operations and the delivery of Hilltop's philosophy of a high-quality program for each family. "My goal," Darline says, "is to provide an inviting environment where children feel safe and supported, develop a love of learning, and gain self-confidence as learners and valued members of our community." She believes that schools are far more than buildings, classrooms, and curricula. They are places where children spend much of their time. Therefore, we should take great care in creating safe, nurturing environments that inspire imagination and creativity. Prior to starting Hilltop, Darline worked in both non-profit and for-profit education organizations in Washington and California. She gained her Master of Education w/ Specialization in Family & Community Relations degree and a Bachelor of Arts Degree in Early Childhood Education Administration. Part of Darline's role as Executive Director is to keep well-informed of, and advocate for the Early Childhood Education (ECE). She currently sits on various committees including the City of Seattle's Preschool Program implementation committee; North Seattle College BAS ECE advisory board and various planning committees for conferences. Darline is also an adjunct instructor for the Seattle Colleges, teaching at North and South Seattle College in the ECE department. Being a part of these professional networks allows her the opportunity to share information with our faculty and build knowledge about Hilltop in the community.
Alfonso (he/him)
Sr. Manager, Family Engagement & Partnerships
My name is Alfonso.  Originally from Los Angeles, I studied at UCSD, and in Seattle for the past 5 years. I have worked with children since high school, and even though I am no longer in high school (not that anyone could tell) I developed a passion since then that continues to grow today. Working for children is all I've known, my experience spans more than 10 years in many different capacities: tutor, instructional aide, coach, substitute teacher, enrichment teacher, assistant director, center director and regional director. Since I started working with children, I haven't wanted to do anything else. I love being able to be that person in child's life that helps them grow and be inspired.
Emily (she/her)
Mentor Educator
I have been working with children and families in a variety of capacities for 23 years- 13 of those have been at Hilltop- as a preschool teacher, a toddler teacher, and more recently as a mentor teacher. I tend to learn through experiences, through challenging myself, and through being challenged by others. Some things I enjoy about my current role are being an advocate for everyone, offering different perspectives, guiding learning dispositions, and supporting educators in all the aspects of their important work.  A teacher once told me she described my work to a child as, "she takes care of teachers," and I really like that description. My current focus is on finding and maintaining a balance between supporting strengths and supporting challenges held by our educators, between offering teaching and coaching based on individual or team needs, between spending time in classrooms and time on other tasks my role entails, and between helping Hilltop grow and letting Hilltop grow me.
Hannah (she/her)
Executive Assistant
My role includes leading enrollment, managing the office, and being a part of the admin team. I grew up in the greater Seattle area and have worked at Hilltop since 2009 in roles of substitute, office assistant, and currently Administrative Coordinator. I have a B.A. in Psychology from Seattle Pacific University. Being the oldest of 5, my love for children started early and I am thankful to share it with such a passionate group of people that thinks so reflectively about early learning. When not at Hilltop I am involved with my church, enjoy spending time with my family and friends, and exploring the beautiful Pacific Northwest. I love being a part of the Hilltop community!
Mike (he/him)
Sr. Manager, Community Engagement
I have traveled long and far to get here.  No, literally.  I am joining the Hilltop family from the other side of the country, moving to Seattle, Washington from Buffalo, New York.  Coming with me (besides my love and expertise with pizza and cheesecake), are 3 years of experience in increasingly responsible roles within marketing at for and non-profit companies in New York and in London, UK.  In my most recent position, I worked as a communications consultant, working with several clients across New York, including a project with the mayor of Buffalo.  My experience is enhanced by my Bachelor's degree in Communications and Spanish and a MBA in International Marketing from the University of Greenwich in London, UK.  As a former Division 1 athlete (football), I thrive on a collaborative workplace, so if you have any ideas for me, let me know!  When I'm not at work, I like to be involved in projects within the community, working to improve community and social conditions during my spare time.
Mindy (she/her)
Admissions Coordinator
Hello all, my name is Mindy. I'm just starting my journey with Hilltop and I couldn't be more excited to be starting as the Admissions Coordinator! I've known that I wanted to work with children since a young age, and I'm lucky to have gotten to work in a field I love my whole adult life. I graduated from Central Washington University with a degree in Recreation Management. This major was as fun as it sounds, and I got to work closely with the local Parks and Recreation department and learn how to run programs. Since college, I've spent time working at a few different education and childcare facilities doing everything from being a summer camp floater to a site manager, so I am excited to take on enrollment specifically! I'm a lifelong Washingtonian. I grew up in the south sound and now live in Edmonds with my husband Brett and our turtle Snappy. I love going for walks and camping at the coast. I'm excited to be a part of the Hilltop family!
Ozerah (she/her)
Nutrition Coordinator
Hello, my new Hilltop family!! My name is Ozerah (as of 8/6/2020), my former name was Y'ves Nichols.  My family and I made name changes for religious purposes. I have worked in childcare for almost 30 years! I owned and operated an in-home childcare for 10 years.  This afforded me the opportunity to stay home and be present for my then young children.  I then moved into the world of ECE as a two's teacher.  At which I found a like for potty training little ones J.   My husband and I are the parents to 9 children, ranging from age 10-36.  We are also grandparents to 6-soon to be 7, beautiful grandchildren.  I am naturally nurturing and enjoy caring for others.  During this time, I started a catering business.  This sprang from my passion to cook meals that my children enjoyed from fast food restaurants.  Going out to eat was a treat, but very expensive.  I took on the challenge of becoming a home cook that made food just like the restaurants.  My favorite challenge when preparing food is how to make it healthy and how to incorporate vegies and fruit.  I also enjoy teaching children and adults to cook!  Incorporating culture, safety, health, nutrition, math, science, reading, comprehension, cooperation and teamwork.  Children enjoy helping in the kitchen and I enjoying teaching all things kitchen!   There is so much learning and fun that can happen with meal planning and prepping and I look forward to working with the Hilltop family and building relationships with everyone.
Theresa (she/her)
Program Supervisor
My Name is Theresa. I come from a very large Native American Family and was raised on the Crow Indian Reservation in Montana and the Cocopah Reservation of Arizona. Being from such a large family I was blessed to learn how to celebrate life in all the good and bad. I was raised in a community of everyone taking care of each other. This has been a big part of my teaching of young children as well as to why I feel a need to give back what was given to me.  After Graduating High school, I decided to broaden my horizons and took a road trip to Seattle to find my purpose and found that it was working with children. I have been a preschool and B/A school/summer Program teacher and director for over 25 years now and still discover something new from children every day (I think that they are the fountain of youth!).  
My favorite part of my journey has been being a mom. This special job has taught me Patience, unconditional love, reasonable expectations, gratitude, and living in the moment. I have used those skills to make every moment count in my daily interactions. I am multilingual in Spanish, English, and can understand some of my indigenous dialects. My goal is to give children the social and emotional tools to be successful in life as lifelong learners. I love to listen to Jill Scott, Jenny Rivera, Prince and Pow wow music. During my free time I like to cook, read poetry and celebrate my children, whom are 23 and 24 years old.   I am so excited to continue my journey and for finishing my degree I started 15 years ago.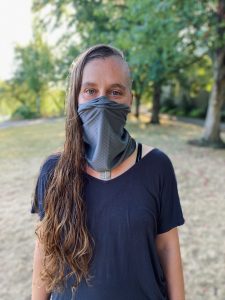 Trudy (she/her)
Mentor Educator
I have been working with children, families and educators for nearly 20 years. I believe in relationship-based education…that we each learn in relationship with other people, with ourselves and in relationship with the physical world surrounding us. I believe in the capability of people of all ages and I believe that collaborative, respectful partnerships support all of us in learning more. I continue to learn about each classrooms' strengths and challenges, as I collaborate with both young learners and older learners (aka educators), to support their exploration and discovery. I bring my passion for constructivist education and collaborative problem solving along with my joy for exploring educational strategies. You may see me sitting quietly at the edge of a classroom observing or engaging in play with children as I follow them into their investigations. You may hear me being curious alongside educators as we reflect upon your children's learning together. I am inspired by young children's perspectives, adult interpretations and curiosities surrounding children's learning, and the creativity possible in open atmospheres. I'm always up for a trek into the wilderness, who knows what we might discover together!