Darline
Executive Director
Darline Guerrero is life-long student and educator on a mission. As the Executive Director, she is responsible for assisting the organization in maintaining high-quality delivery and advocacy. She has oversight of the center and institute operations and the delivery of Hilltop's philosophy of a high-quality program for each family. "My goal," Darline says, "is to provide an inviting environment where children feel safe and supported, develop a love of learning, and gain self-confidence as learners and valued members of our community." She believes that schools are far more than buildings, classrooms, and curricula. They are places where children spend much of their time. Therefore, we should take great care in creating safe, nurturing environments that inspire imagination and creativity. Prior to starting Hilltop, Darline worked in both non-profit and for-profit education organizations in Washington and California. She gained her Master of Education w/ Specialization in Family & Community Relations degree and a Bachelor of Arts Degree in Early Childhood Education Administration. Part of Darline's role as Executive Director is to keep well-informed of, and advocate for the Early Childhood Education (ECE). She currently sits on various committees including the City of Seattle's Preschool Program implementation committee; North Seattle College BAS ECE advisory board and various planning committees for conferences. Darline is also an adjunct instructor for the Seattle Colleges, teaching at North and South Seattle College in the ECE department. Being a part of these professional networks allows her the opportunity to share information with our faculty and build knowledge about Hilltop in the community.
Sarah
Education Director
As Hilltop's Education Director, I help guide Professional Development for Hilltop faculty, and facilitate our outreach initiatives through the Hilltop Educator Institute, which offers tours, consultation services, and public events for the Early Childhood Education community. My training includes a B.A. in Psychology from Yale University, and an M.A. in Human Development from Pacific Oaks College. I've worked here at Hilltop since 1995, as a classroom educator in Sunlight Room for my first 10 years, then in a variety of administrative roles, and I have served as Hilltop's Education Director since 2009. I'm also the parent of a Hilltop alum, and pleased to be able to bring these multiple perspectives to my work. When I'm not at Hilltop, you can probably find me reading, baking, and hanging out with my family: my husband and son, our two cats, and our hedgehog named Darius.
Nick S.
HR Supervisor
As the HR Manager at Hilltop, I am part of a team responsible for progressing Hilltop's commitment to building a community of advocates in our field and supporting our faculty in providing exceptional experiences for children, families, and staff. My position focuses on supporting our faculty in their multi-dimensional work with our children, each other, and through our Educator Institute through staffing, scheduling, and quality of work environment. This is also done through ensuring access and management of comprehensive benefits and a values-based recruitment, hiring, and onboarding strategy that seeks to move the needle on access and empowerment of a faculty that represents a myriad of diversities. My undergraduate work was in applied behavioral sciences and ECE, with my graduate work focused on human development with an emphasis in social change. Joining Hilltop in 2015 was a life-changing experience and I look forward to many more years of supporting the amazing work that happens here.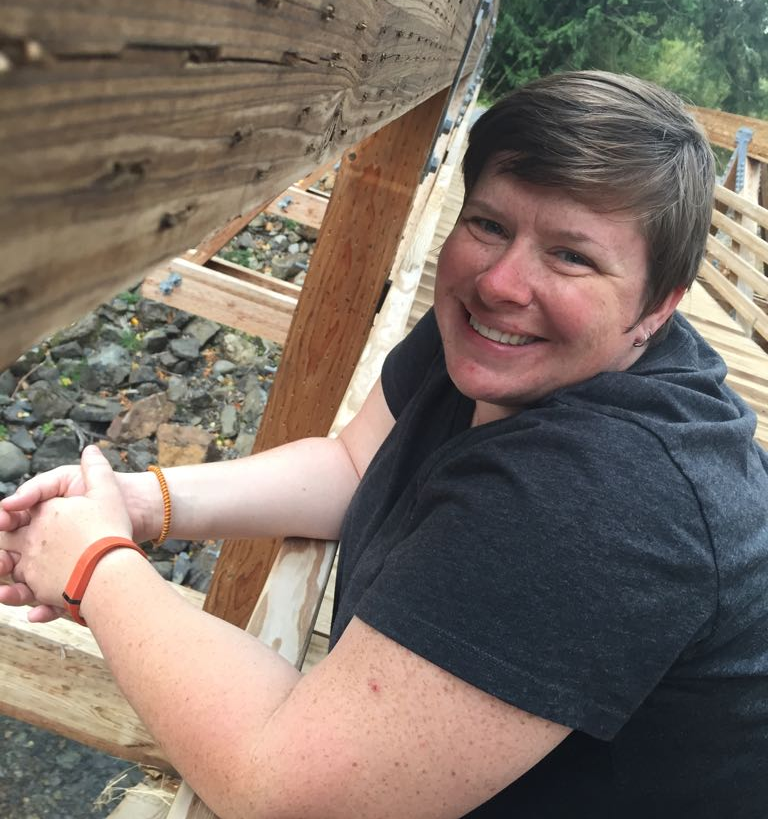 Erin
Program Supervisor
As the Program Supervisor I support and supervise our amazing faculty teams while providing oversight of program compliance with government agency requirements. I have been teaching, facilitating, and mentoring for over 15 years and I am thrilled to be part of a dedicated team focused on equity and reflective practice. Even before working here, I jumped at every opportunity to be involved with this community through the Hilltop Educator Institute. I grew up on a small farm in Tacoma, not realizing until much later how unique it is to grow up nestled between mountains and salt water. After finding my niche in experiential and environmental education, I taught and directed nature-based and all-outdoor preschools in Michigan and Washington. I earned a B.A.E. in Interdisciplinary Child Development, M.Ed in Environmental Education, and the following certificates: K-8 Teaching with P-3 endorsement, Non Profit Leadership and Administration, Washington P-3 Executive Leadership, and Northwest Natural History. My partner and I enjoy geocaching and my hobbies include activities calling for hiking boots, kayak or canoe paddles, hammocks, and tents.
Hannah
Administrative Coordinator
My role includes leading enrollment, managing the office, and being a part of the admin team. I grew up in the greater Seattle area and have worked at Hilltop since 2009 in roles of substitute, office assistant, and currently Administrative Coordinator. I have a B.A. in Psychology from Seattle Pacific University. Being the oldest of 5, my love for children started early and I am thankful to share it with such a passionate group of people that thinks so reflectively about early learning. When not at Hilltop I am involved with my church, enjoy spending time with my family and friends, and exploring the beautiful Pacific Northwest. I love being a part of the Hilltop community!
Mike
Community Engagement and Business Manager
I have traveled long and far to get here.  No, literally.  I am joining the Hilltop family from the other side of the country, moving to Seattle, Washington from Buffalo, New York.  Coming with me (besides my love and expertise with pizza and cheesecake), are 3 years of experience in increasingly responsible roles within marketing at for and non-profit companies in New York and in London, UK.  In my most recent position, I worked as a communications consultant, working with several clients across New York, including a project with the mayor of Buffalo.  My experience is enhanced by my Bachelor's degree in Communications and Spanish and a MBA in International Marketing from the University of Greenwich in London, UK.  As a former Division 1 athlete (football), I thrive on a collaborative workplace, so if you have any ideas for me, let me know!  When I'm not at work, I like to be involved in projects within the community, working to improve community and social conditions during my spare time.
Donna
Bookkeeper
I've been subbing at Hilltop since May 2012, helping out in classrooms, office and kitchen. I love working at Hilltop because these teachers are the most loving, creative, intelligent, and know what children need in order to develop their own true spirits. Over the decades I've been a mechanical drafter, accountant, office manager, a mechanic in the Air Force and have a B.S. degree in Aeronautics. I completed an Associate of Applied Science degree in Early Childhood Education in 2012. Working with children has always been my true love!