Substitutes and Floating Staff
McKenzie
Hi, my name is McKenzie! I am currently a student at Seattle Pacific University studying psychology. I enjoy hiking and spending time outdoors with my friends and family. I grew up in the Pacific Northwest and absolutely love it here. I love working with kids and am very excited to have the opportunity to work with the amazing staff and students at Hilltop Children's Center
Shelby
My name is Shelby, I am a senior Psychology student at SPU. You can find me in the office or serving as co-lead sub/floater alongside McKenzie.  When I'm not at school or Hilltop I enjoy going to shows around Seattle and finding dogs to pet.
I love that Hilltop gives me the opportunity to learn from each child in such a wonderful and creative environment. I'm so happy to be able to spend time with all the kiddos, their families, and the amazing Hilltop faculty!
Vivian
HI! I'm Vivian and it's been such an adventure working for HIlltop (it's already been 4 years).  Currently I'm a student at Seattle Pacific University majoring in Fashion Merchandising. Aside from fashion, I absolutely love engaging with children – their energy and innocence makes me laugh and inspires me!  It's been such a privilege to work with genuine staff who care about every individual child, but also support one another. This creates such a lively atmosphere and it's my favorite aspect of working at Hilltop.
We're our own kind of family:)
Ben
My name is Ben and I have been a sub/floater at Hilltop since my freshmen year at SPU in 2011. Over the years I have truly cherished the time spent and experience gained from working with the children and faculty. While I'm not at Hilltop I am working at Seattle Children's Hospital as a mental health specialist, Snohomish County Music Project as a music therapist, or playing drums in a couple local bands.
Kristi
Hi, my name is Kristi and I'm a third year physiology student at SPU. This is my third year here at Hilltop and I'm so glad to be here! It brings me great joy to work alongside and learn from the children, faculty, and families that together compose the amazing Hilltop community. I love meeting the families behind the wonderful children I spend time with; if we haven't met yet, I certainly hope we will!
Savannah
I am Savannah and I am a student at Seattle Pacific University. I am going to school for psychology and communications with goals of becoming a psychotherapist at a Children's Hospital. I am passionate about working with kids and I truly believe that children have a lot to teach us about life. I enjoy being there for these individuals as they learn more about who they are and where their interests lie.
Emma
Hi my name is Emma. I am a student at SPU studying Business Administration with a concentration in marketing. When I'm not doing homework or at Hilltop, I will either be out exploring Seattle, taking pictures, or reading a good book.
Donna
I've been subbing at Hilltop since May 2012, helping out in classrooms, office and kitchen. I love working at Hilltop because these teachers are the most loving, creative, intelligent, and know what children need in order to develop their own true spirits. Over the decades I've been a mechanical drafter, accountant, office manager, a mechanic in the Air Force and have a B.S. degree in Aeronautics. I completed an Associate of Applied Science degree in Early Childhood Education in 2012. Working with children has always been my true love!
Jacky
Hi I am Jacky, I am  student at WWU's teacher education program, and have worked with children since 2004. Outside of work and school, I enjoy listening to various podcasts and watching bad horror movies in the dark.
Jazmin
My name is Jazmin, I am a sophomore Nutrition and Dietetics student at SPU. You can find me serving as a sub/floater in any of the classrooms or in the Spanish classroom as a sub. On my free time I like to explore the city. I am grateful for the time spent working alongside everyone at Hilltop and all of  the interactions with the creative and unique kids here.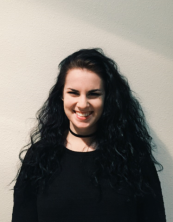 Mikayla
Hi my name is Mikayla. I am a sophomore Illustration student at SPU. I typically serve as an evening floater alongside the wonderful floater team and staff. Outside of Hilltop, I am a full-time student and enjoy exploring this wonderfully diverse and artistic city in my free time. Hilltop has provided such a fulfilling and educational opportunity from me to listen, create, and play with children in their element–allowing me to witness the most curious minds at work. I can't help but leave my workday with a smile on my face from the kids' infectious laughter and unique perspectives on life!
Krystal
My name is Krystal and I am a Junior Exercise Science student at Seattle Pacific University. I enjoy working in athletics and coaching basketball in my spare time. I have been working at Hilltop for 7 months now, and the best part of the job is getting to play with the kids on the playground!
Monica
My name is Monica and I am from the beautiful island of Guam. I am currently a sophomore at Seattle Pacific University with a psychology major and business minor. When I'm not working as a sub/floater at Hilltop, I love to hang out with my friends, play basketball, or watch funny movies.
Madison
My name is Madison Zurcher and I am a Freshman at SPU. I'm from Portland, Oregon, and love spending my time doing crafts or enoying the outdoors.
Amanda
My name is Amanda and I am a sophomore majoring in Special Education at Seattle Pacific University. I have been at hilltop working as a floater for just under a year and have loved getting to know all of the kids and watching them grow. When I'm not at Hilltop or school, I enjoy hiking and going on adventures with friends.
Kalin
My name is Kalin, and I'm a junior Political Science student at SPU. I work as a floater at Hilltop, but when I have free time I love to hike and explore. I love being a part of the supportive and creative environment that Hilltop creates. The kids always brighten up my day and continue to encourage me to think in new ways and learn every day.
Liane
Born and raised in Hilo, Hawaii, my Hilltop journey began in 2004 as a Sunlight Teacher. Currently, I am a teacher at a cooperative school as well as a substitute at Hilltop on most Fridays and Seattle public school closure days.
Jillian
Hi. My name is Jillian. I have been working with kids for five years and I love it. I also love hanging out with my family and my dog. I love working at Hilltop because I get to watch the kids grow and learn new things everyday.
Akesha
I'm happy to have the opportunity to learn and practice at Hilltop, a truly humanitarian community! I have a  PhD in cultural anthropology and speak Spanish and (Tzotzil) Mayan. I am a poet, an artist and the mother of an 8-year-old girl. I am interested in creative expression of all kinds, particularly as it touches on the spark within each person that leads to greater wholeness. I am working on becoming a Jungian analyst and a Zen priest. I live on upper Queen Anne, and practice Aikido and facilitate Zen meditation at Seattle Aikikai.
Chris
Aloha! My name is Chris. I was born in Hawaii but I identify with being from, quite simply, Earth! I love this beautiful planet and the wonders it delivers, and I have taken as many opportunities to travel as possible. I have lived in Europe, and the Caribbean, and have been to 30 countries as of this writing. I studied History at the University of Hawaii and plan to pursue a Masters in Education once I establish residency in Washington.
Although I studied history, music is my passion. I am a music producer and play electronic music around Seattle. Music strengthens the soul, education strengthens the mind.
I take pride in being a part of the Hilltop community because nothing could be more important than our work: cultivating and nurturing empathetic, critical-thinkers. It is a sincere pleasure to be a part of such a successful and forward-thinking institution.
Leah
Leah Loftsgard-Sub/Floater: My name is Leah and I am a sophomore student at SPU majoring in Integrated Studies (fancy way of saying I want to be an elementary teacher). I adore kids and love my job as a Substitute/Floater at Hilltop! You'll occasionally see me substituting for Jill in the Spanish room. I grew up on the mission field in Nicaragua and love having the opportunity to speak and teach Spanish! When I'm not at Hilltop, I love to go on runs, bake yummy things, and explore all the wonderful coffee shops in the area.
It is such a privilege to work at Hilltop and to interact with the curious and brilliant minds of children. I love having the opportunity to learn alongside all the stellar educators, administration, and families.
Jazmin
My name is Jazmin and I am a student at Seattle Pacific University. I am planning on pursuing a degree in Elementary Education with an emphasis in the arts. The Hilltop community is wonderful and I am thrilled to be a new addition. Some of my favorite things are smiling, singing, acting, photography, and of course working with children! I can't wait to meet you!